Ganesh Chaturthi, a festival that has symbolic connect with people in India is celebrated on September 13 this year. Also known as Vinayaka Chaturthi, the grand festival marks the birthday of everyone's favourite, Lord Ganesha. Along with the celebrations full of "Ganpati Bappa Morya" chants, people send messages and greetings to their family, friends and wish their loved ones Happy Ganesh Chaturthi. Through these messages people wish each other good luck, bestow blessings of Ganpati and moreover these greetings will help you connect with people who are far away. Lord Ganesha is known to be the God of Beginnings and Hindu devotees begin all rituals or ceremonies by seeking his blessings first. To mark the occasion, we have compiled a list of messages, greetings and wishes that you can share with your loved ones through WhatsApp, Facebook and other social media platforms. Ganeshotsav 2018 Makhar Decoration Ideas: Flower Decorations to Eco-Friendly Themes for This Year's Ganpati Festival.
The preparations for the festival begin months in advance. Craftsmen skilfully sculpt beautiful idols – from two-feet to 15-feet long massive idols – Lord Ganesha's murti comes in different sizes and forms. Many devotees also prepare their own idols at home, an eco-friendly version and usually immerse them in their own houses. People today are more aware of the environment and many opt for eco-friendly Ganpati idols than the popular POP ones. Devotees who bring Lord Ganesha home, decorate the house and the place where the idol will sit with flowers, rangoli and lights and many other options. The celebrations include dancing and singing or reciting of devotional songs, preparation of special food and everybody is happy and merry. Ganeshotsav 2018: 7 Popular Ganpati Pandals in Mumbai to Visit This Festive Season.
Lord Ganesha is also called 'Vignharta' – one who takes away all the pain and problems. Friends and family visit Ganpati pandals together and people invite each other at their homes to seek blessings from the Lord Ganesha whom they've brought at their houses. People offers prayers, popular Ganpati aarti is sung day and night and everyone come together to meet and greet each other. On this occasion, here is an extensive list of Ganpati messages in English, wishes and thoughts that you can share with your near and dear ones. These lovely messages can be sent throughout the 10 days and remember the Lord on this auspicious occasion. Ganeshotsav 2018 Hindi Songs: From Deva o Deva to Ganpati Bappa Morya, Top 5 Bollywood Tracks Dedicated to Lord Ganesha.
Ganeshotsav 2018 Greetings, Messages & Wishes in English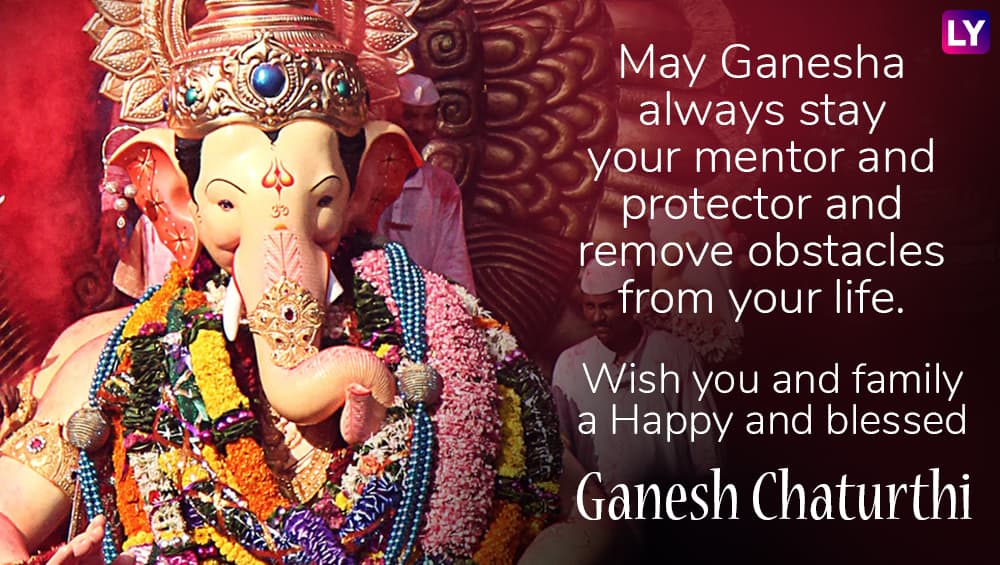 Message Reads: May Ganesha always stay your mentor and protector and remove obstacles from your life. Wish you and family a Happy and blessed Ganesh Chaturthi!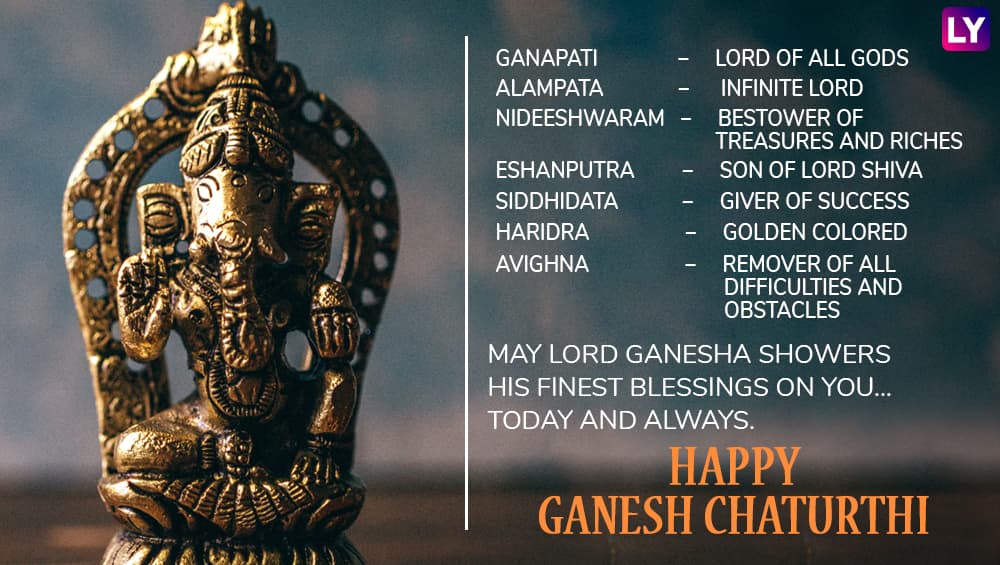 Message Reads: Ganapati – Lord of all Gods, Alampata – Infinite Lord, Nideeshwaram – Bestower of treasures and riches, Eshanputra – Son of Lord Shiva, Siddhidata – Giver of success, Haridra – Golden colored Avighna – Remover of all difficulties and obstacles, May Lord Ganesha showers his finest blessings on you…today and always.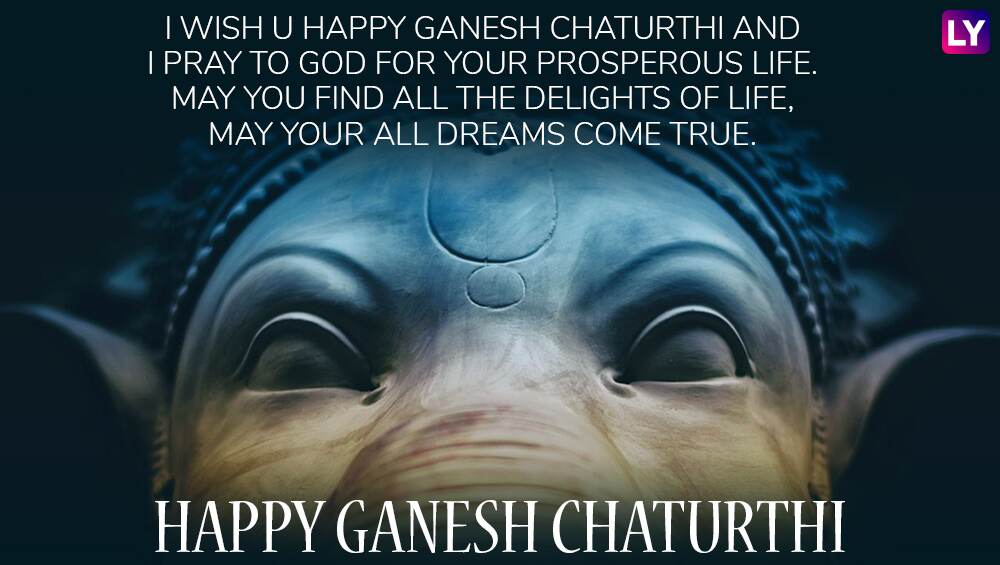 Message Reads: I wish u Happy Ganesh Chaturthi and I pray to God for your prosperous life. May you find all the delights of life, may your all dreams come true.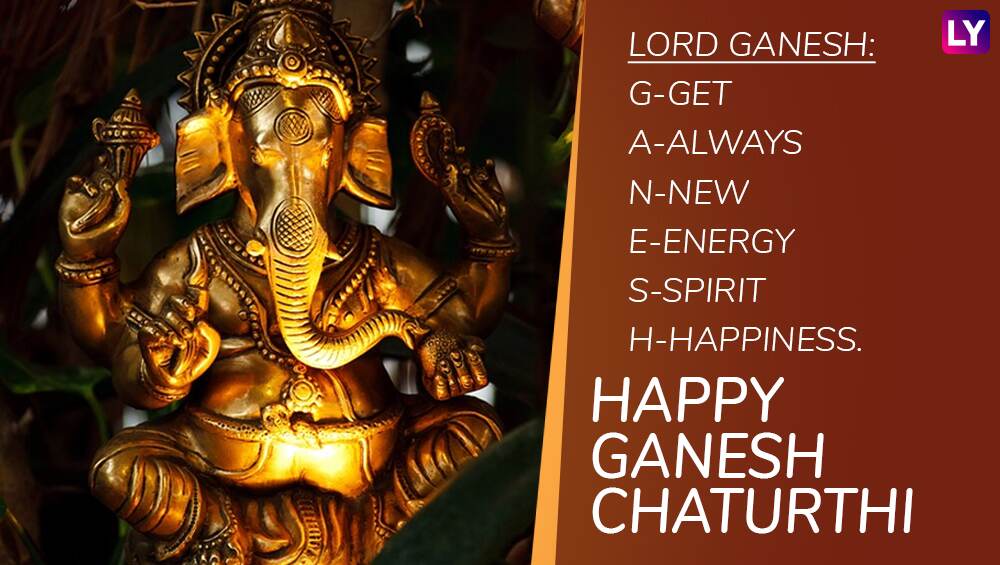 Message Reads: Lord Ganesh: G-Get, A-Always, N-New, E-Energy, S-Spirit, H-Happiness. Happy Ganesh Chaturthi.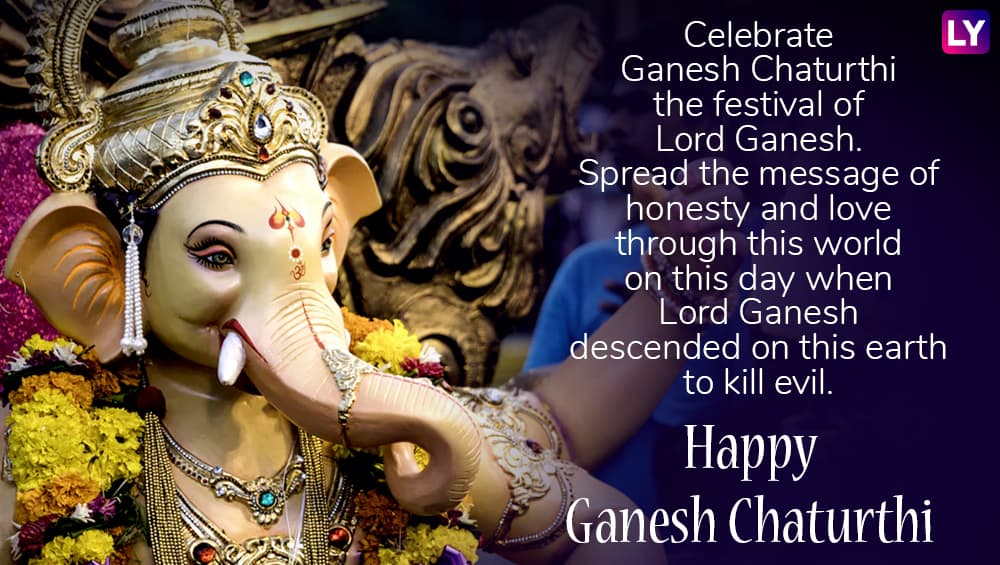 Message Reads: Celebrate Ganesh Chaturthi the festival of Lord Ganesh. Spread the message of honesty and love through this world on this day when Lord Ganesh descended on this earth to kill evil. Happy Ganesh Chaturthi.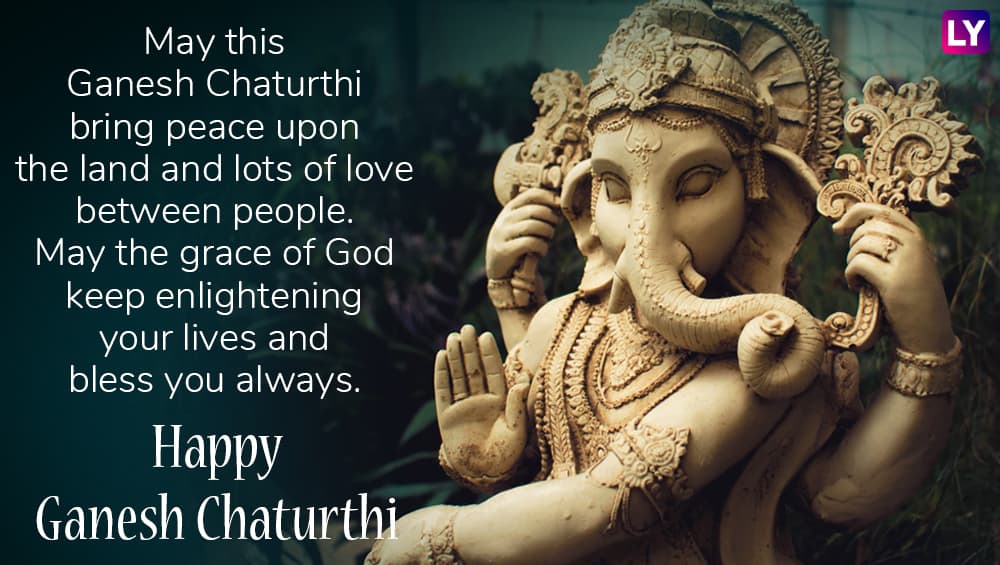 Message Reads: May this Ganesh Chaturthi bring peace upon the land and lots of love between people. May the grace of God keep enlightening your lives and bless you always. Happy Ganesh Chaturthi!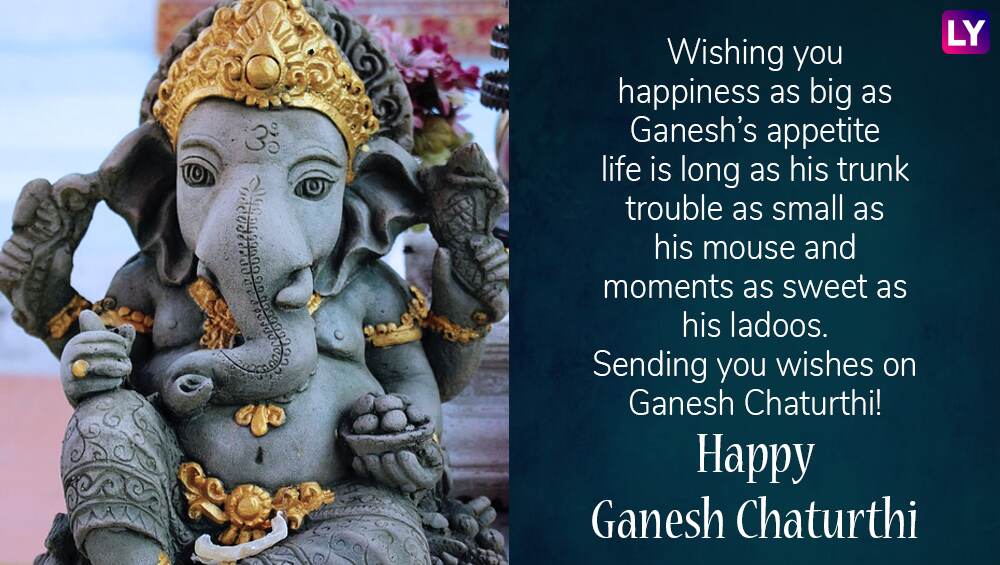 Message Reads: Wishing you happiness as big as Ganesh's appetite life is long as his trunk trouble as small as his mouse and moments as sweet as his ladoos. Sending you wishes on Ganesh Chaturthi!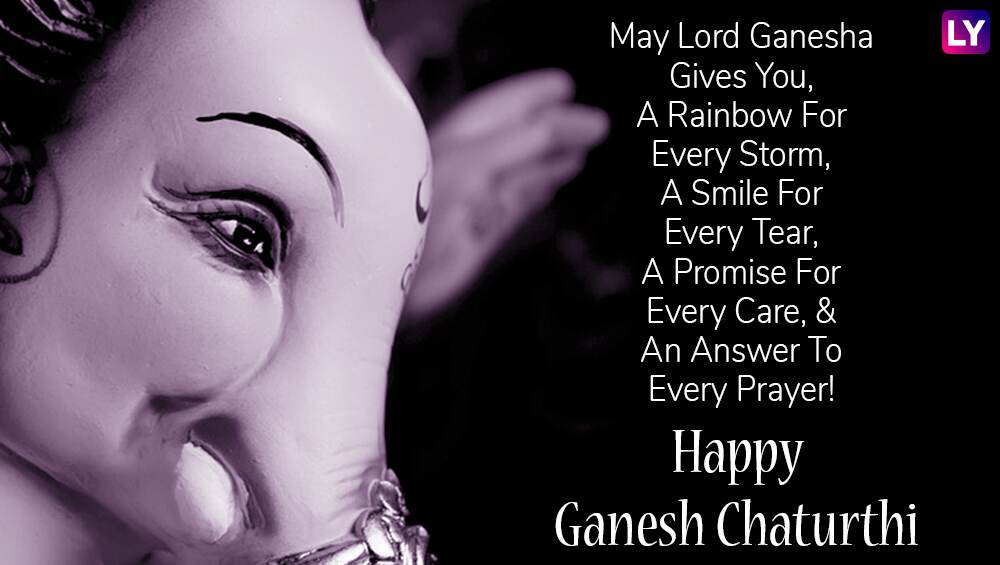 Message Reads: May Lord Ganesha Gives You, A Rainbow For Every Storm, A Smile For Every Tear, A Promise For Every Care & An Answer To Every Prayer! Happy Ganesh Chaturthi!
GIF Images
There are many stories associated as to why we worship the elephant-headed God. Lord Ganesha also teaches us many life lessons that us mortal beings should imbibe. He is the God of intellect, good luck and prosperity. He the one who takes away all the obstacles and guarantees victories. This Ganeshotsav pray to the Lord to remove all the obstacles from your life, pray for virtue and to show you the right path. Celebrate the occasion with your loved ones by visiting pandals across the city. We at Latestly, wish all our readers Happy Ganesh Chaturthi 2018!