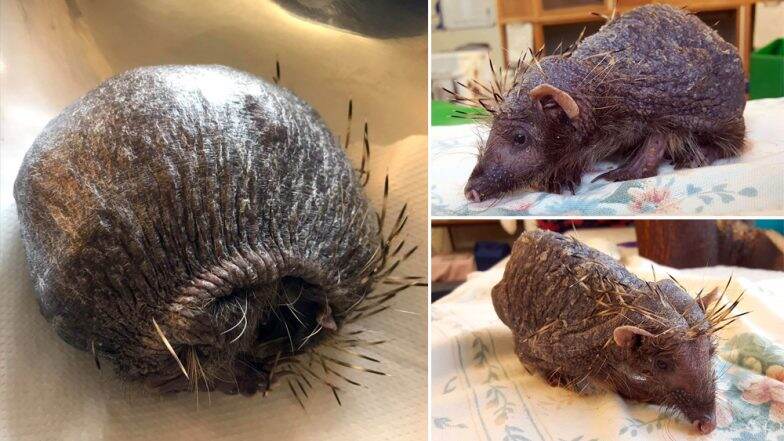 Pictures of a bald hedgehog called bear are doing the round on the internet. He has lost all his prickly spikes because of stress. However, he gets aloe vera massages by people at Cuan Wildlife Rescue Centre in Much Wenlock, Shropshire, where he brought by a concerned member of the public, who wasn't aware of the kind of animal Bear was. Bear is believed to have woken up from hibernation early with an ear mite infection. Therefore the spines on his body are falling off because of stress as per the suggestions from the staff caring for Bear. However, Manager Fran Hill and the team reportedly believe that the baby hedgehog may soon recover and his spines may grow back quickly. He's been receiving aloe vera massages once a day. He also gets a bath weekly with an anti-bacterial shampoo to help soothe his skin. Animals Feel Anguish Too: Video Shows Orangutan Fighting A Bulldozer to Protect His Home in Indonesia.
Cuan Wildlife Rescue team shared the pictures of bear on Facebook and explained in the post what exactly happened to the hedgehog that he ended up losing his spines. The post read- "So shocking!! This poor hedgehog is almost unrecognisable. Having lost most of his spines and having a terrible ear mite infection, he's clearly had a tough time. It's likely he went into hibernation with the mite problem which had taken hold in his slumber. Stress is the likely cause for the amount of spine loss, even though slight dryness of some of his skin could mean he's had ringworm too. Poor little thing! His treatment is going to be extensive...and expensive.
We don't name the animals that come in, as contact is very limited and they go back to the wild as soon as they can. But this one will be with us for a long time so Dani has named him 'Bear.' I'll keep you updated. Fran."
Take a look at how Bear who lost his spikes due to stress.
We wish Bear a speedy recovery. Hope he gets back his spine soon. Also, we must definitely mention that organisations such as Cuan Wildlife Rescue really help make a better place for the animals.