Memes have become the motivation for some people even to open their social media accounts these days. Memes slowly crawled into our lives and gave us so many reasons to laugh out loud throughout in this stressed out life. I am sure tagging your loved ones in different types of memes is today's way of saying I love you. We never thought memes would become a thing, they did and for all the right reasons! Just like 2017, 2018 has been quite a year for meme lovers. We saw so many meme trends this year that it was crazy! The meme-game this year has been upgraded with so many desi videsi themes that left us ROLFing each time. 'Don't Say It' Memes On Instagram and Twitter Are So Relatable That It Is Crazy!
Right from the moth memes to #BlackHogwarts to young cardi B, we saw memes on almost everything and every person in no particular order. Memes have really saved us get through a year filled with scandals and major celebrity deaths. Here are the top memes of 2018 that went viral to break the internet.
It all began with the Tide Pod Memes, here's one Gorden Ramsay Approved!
The #BlackHogwarts Memes-
Joe Jonas with banana memes-
when you're at a hookup but the guy you're actually into replies pic.twitter.com/B7zqDGEVTP

— Joshua Haigh (@joshcharles_21) January 4, 2018
The off-ramp memes
View this post on Instagram
What's your Child Texting About memes...
is your child texting about Charles Dickens

WTF: Worse Than Fagin

OMFG: Old Marley's a Freaky Ghost

GTFO: Give That Food to Oliver!

IMHO: Is Miss Havisham Okay

LMAO: Love to Mistreat An Orphan! 😂

SMDH: Stop the Madame DeFarge Horror

TTYL: Tiny Tim, You'll Live!

— the library haunter 🦉🎄❄ (@SketchesbyBoze) January 29, 2018
Gym Kardashian memes were super lit this year!
Savage Patrick memes...
Krusty Krab vs. Chum Bucket memes were really popular this year.
Smug cheerleader memes were super fun!
white feminists after drawing a uterus on a poster pic.twitter.com/odzHvNLS8W

— i'm bottom (@dailyjoshifer) January 21, 2018
'Blue Ivy telling her parents to stop clapping' memes...
Me when y'all applaud men for doing the bare minimum: pic.twitter.com/JdmBI8Ai86

— ɢᴀɴʏᴍᴇᴅᴇ (@starcrossedlovr) January 29, 2018
LeBron James and J.R. Smith were hilarious this year!
"WE COULD HAVE WON THE FREE TACOS" pic.twitter.com/bNcVXmmlyT

— Tony Merevick (@tonymerevick) June 1, 2018
End number of Kylie Jenner baby name memes!
View this post on Instagram
Fortnite memes...
Watching Drake run around as a bush is the greatest thing that's happened so far in 2018 pic.twitter.com/43qe8fbhYd

— luisa (@luisagibsonxo) March 15, 2018
Kylie Jenner's 'Next Thing I Knew, I Was Pregnant' meme!
Your crush when you show her your huge meme collection pic.twitter.com/6u3nvxNT7h

— LitLuther (@LitLuther_iF) February 11, 2018
The Royal wedding memes...
This is the face of someone who knows they'll never have to add water to that last bit of shampoo so it'll last longer #RoyalWedding pic.twitter.com/9sFZA1CvVH

— Jp (@CaptainPeezy) May 20, 2018
When Michaela Coel Smirk – Black Mirror turned into a meme...
When you pause the podcast because you swear you just heard your mum calling you downstairs, but it's only your anxiety speaking Yoruba. pic.twitter.com/tBlBMeeDu4

— Wale Lawal (@WalleLawal) January 8, 2018
Endless Google Arts and Culture Selfie memes
Trump using the Google Arts and Culture App. #GoogleArtsAndCulture pic.twitter.com/G22PPkdDB3

— Joel Rivera Schoenbach 🎅🏼 (@JoelSchoenbach) January 15, 2018
Days without sex memes-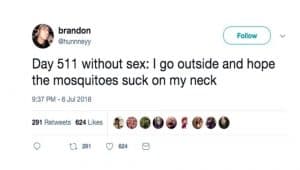 Don't say it memes-
Someone: Hey, What's up?

My Brain:

Don't say it

Don't say it

Don't say it

Don't say it

Don't say it

Don't say it

Don't say it

Don't say it

Me: Ceiling

— Ishita🇮🇳 (@NaastikHu) November 14, 2018
They live among us memes-
find the theatre kid:

👩🏻👩🏼👩🏽👩🏾👩🏿👩🏻👩🏼👩🏽👩🏾👩🏿

👨🏻👨🏼👨🏽👨🏾👨🏿👨🏻👨🏼👨🏽👨🏾👨🏿

👧🏻👧🏼👧🏽👧🏾👧🏿👧🏻👧🏼👧🏽👧🏾👧🏿

👦🏻👦🏼👦🏽👦🏾👦🏿👦🏻👦🏼👦🏽👦🏾👦🏿

can't find them?

that's because they live among us, looking like normal people. the only real difference is they're going to hell.

— jade (@imunprepared) December 4, 2018
Evergreen Black Friday memes-
View this post on Instagram
Moth memes-
Can someone please explain the sudden abundance of moth memes? pic.twitter.com/03EdIv3poI

— Frank Lowe (@GayAtHomeDad) September 28, 2018
The legendary, 'They did a surgery on a grape' memes-
Spot the grape

🍎🍏🍐🍌🍒🍍🍆🍈🍑🍓🥑🍐🥦🍊🍆🍒🍓🍎🥥🍋🍑🍈🍑🥥🍉🥥🍅🍋🍐🍐🍆🍊🍒🍐🥝🍊🍆🍊🍑🍐🍑🍐🥥🍎🍅🍊🍌🍑

Couldn't find it?

It's because they're doing surgery on it

— Slothful Jeremiah (@JoojGuy) November 24, 2018
The Mario Kart, Toadstool and Mushroom memes (thanks to Stormy Daniels and Trump)
*opens twitter*

"Donald Trump's penis is shaped like a mushroom from Mario kart"

*closes twitter*

*sets fire to phone*

*launches phone into fucking pluto*

— TechnicallyRon (@TechnicallyRon) September 18, 2018
PUBG memes-
When its your wedding night but suddenly you see your husband is playing #pubg with his pubg squad pic.twitter.com/hMOxgoTQMu

— Tina Khan🇮🇳 (@tinakhan24) July 30, 2018
Miley Cyrus's Old Pic memes-
I SAID are we gonna party in the USA pic.twitter.com/KoUMt8Xx8p

— Ghetto Fran Dresher / Janelle Monáe Stan Account (@wildestthot) October 23, 2018
There are so many memes that went viral this year that it is so hard to keep track. Nevertheless, thank God for memes, what would we do with our lives otherwise. Let us know if we miss out any!