Plastic has slowly become an integral and irreplaceable part of our lives. From storage tins, carry bags, bottles, accessories, toiletries' packing, we use plastic quite a lot on a daily basis. Its durability, lightweight, unbreakable, chemical resistant, odourless nature adds to the benefits of using it. However, nothing can justify the harm it has been causing the environment. From clogging drainage system, polluting our oceans, destroying plants, killing animals it ironically affects humans too thus destroying the ecosystem.
While the problem was alarming since the beginning, it is only recently that the gravity of the situation received limelight with influencers talking publicly about it on public forums garnering international attention. With the Indian government banning one-time used plastic and other products recently, finally, light has been shed on the intensity of the problem in the country. However, in the recent past, recycle and reuse of plastic has also increased. The non-biodegradable waste has been put to good use which is also directly helping societies without harming nature.
Here are four times plastic contributed to better living:
1. Plastic roads
Plastic bottles are a major part of the heaps of nondisposable wastage. But this plastic can be used to make roads that are durable than regular roads. In 2015, to overcome the problem of disposal of plastic waste, the government had made it mandatory for road developers to use waste plastic along with bituminous mixes for road construction.
Watch the video here:
The technology for this was developed by the Prof Rajagopalan Vasudevan, Professor of Chemistry at Thiagarajar College of Engineering, Madurai who is known as the 'Plastic Man' of India. These roads can resist rain and cold better than other regular roads. Prof R Vasudevan also invented 'plastone' in 2012 which is made from the mixture of waste plastic and stone. Each plastone requires 300 plastic carry bags and around six PET bottles.
2. Plastic houses
Bottle bricks used in making houses is far more energy-efficient than clay bricks. PET bottles which take as long as 300 years to decompose can be used as the cement to become part of strong walls. Walls with plastic bottles reduces heat and gives it an aesthetic appeal too. It can stand more rain, storm and cold weather than other cement or brick walls.
Watch the video here:
Mostly in Africa, Central and South America, there have been initiatives to turn plastic bottles into building materials. For a two-bedroom house, around 14,000 bottles of equal size will be required. In Nigeria, hotels, restaurants, foreign embassies donate to people wanting to make houses using plastic bottles. It is said that these bottle bricks are up to 20-times stronger than a wall constructed of concrete cinder blocks.
3. AC made out of plastic bottles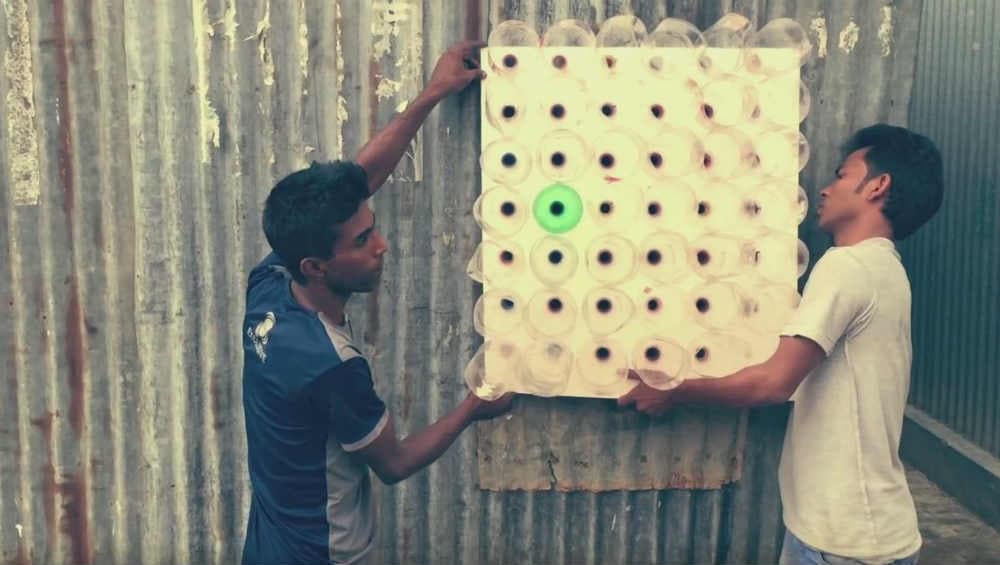 A Bangladeshi man created a DIY AC by using plastic bottles. The air cooler is made by cutting plastic bottles, mounting them on a board and placing the board over a window with the bottleneck facing towards the house. Dubbed as Eco-Cooler, it can change the temperature by almost 5 degree Celsius. This helps people living in tint huts bear the heat in summer, especially when it gets uncontrollable in northern and central Bangladesh. His initiative had made summers easier for around 25,000 homes in Bangladesh in 2016.
4. Plastic fishing boat
A Cameroon-based nonprofit organisation Madiba & Nature has started using plastic bottles to build boats. In the African country,  canoe-shaped crafts made out of emptied bottles have started floating on the waters. A group of students aiming to lessen the waste produced is picking of thousands of bottles and making what they call ecological canoes. Their websites say, "...we want to help change people's attitudes and bad habits on the management of plastic waste that degrades sensitive ecosystems".
Watch the video below:
Plastic has many advantages due to which it found entry into our lives. However, the hazards it is causing to the environment is unchangeable. While initiatives to recycle plastic has formed grounds, the projects need to find a large foundation to grow exponentially and thus stop harming the environment. While we cannot completely get rid of plastic from our lives within a day, let's make it a habit of reducing the usage of it gradually for a better future. Until then, let's put it to good use and take a step to keep our environment clean.