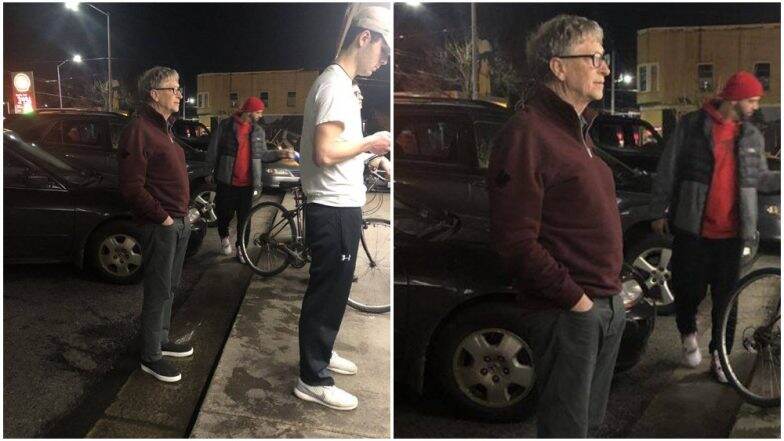 It is not every day that you see Bill Gates standing in the line to grab a burger. The Microsoft founder was captured waiting for his turn at Dick's Drive-In over the weekend. A photo shared on Facebook shows Gates standing at the Wallingford location at 111 NE 45th in Seattle. American business magnate was seen wearing a brown sweater, grey pants and black sneakers as he waited with his hands in his pockets to place his order on Sunday.
Gates has been spotted at fast food outlets previously too. Photos of him at Burgermaster, Bellevue in Washington where he lives has gone viral in the past. Infact, social media users are surprised that he was spotted ar Dick's Drive-In against his favourite Burgermaster. Seems Gates is a serious fast food lover. Bill Gates Shares Photo of His Father Wearing a Baseball Cap Made From Condoms; Here's Why.
Mikes Galos, a previous Microsoft employee shared the photo on Facebook with the caption: 'When you're worth about $100,000,000,000, run the largest charity in the history of the world and stand in line for a burger, fries and Coke at Dick's like the rest of us. THIS is how real rich people behave unlike the gold toilet seat wannabe poser in the White House.' Bill Gates Carried a Human Poop Jar in Hand To Support China's Toilet Revolution.
Here is the Facebook post:
After being shared on Tuesday, the photo has collected over 17,000 reactions and more than 14,000 shares. Galos said that he did not spot Gates, but found the photo on a closed Microsoft alumni board where another ex-employee posted it on Sunday. According to Forbes, his current net worth is USD 95.5 billion. He and his wife Melinda are head the Bill and Melinda Gates Foundation.