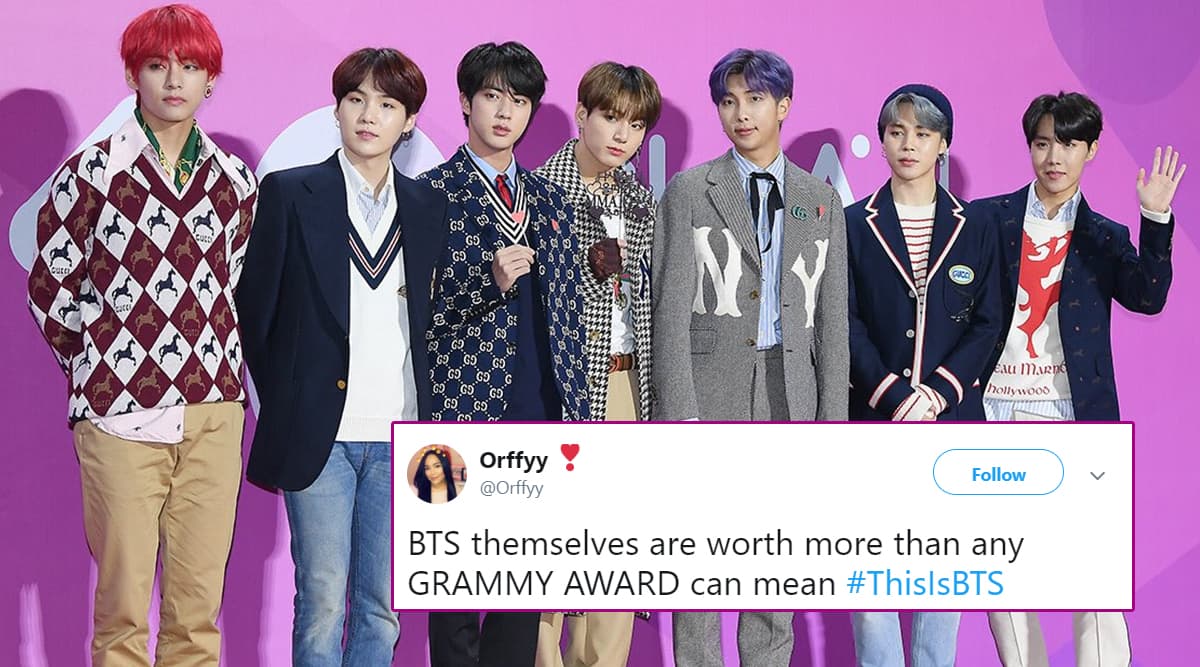 The Grammys are one of the most reputed awards in the field of music and everyone awaits the nomination list, to see if their favourite tracks and albums make it to the list. K-Pop is an emerging genre and BTS is one of the most popular bands which has been getting a lot of love and recognition recently. However, there was not a single nomination for BTS in the entire nomination list and needless to say, the Army of fans is disappointed. As Grammys 2020 nomination list was declared last evening, social media was buzzing with BTS Army expressing disappointment about no nominations. Grammy 2020 Nominations Full List: Taylor Swift, Billie Eilish, Lady Gaga, Ariana Grande among Others who Bagged a Position in Different Categories.
The Recording Academy seemed to give BTS a complete snub this time despite the boy band giving some great hits in 2019. Map of the Soul: Persona the album that released in April even made it at No. 1 on the Billboard 200. The band proved their popularity even in their Love Yourself World Tour. But those achievements were shutout by the Grammys as there wasn't even a mention of them in the Best Pop Duo/Group Performance nor in Best World Music Album. The group of devoted fans the BTS Army is not happy and they expressed all their displeasure on social media. People's Choice Awards 2019 Royally Snubs BTS And The ARMY is Not Happy! View Tweets.
Check Tweets of BTS Army on Grammy Snub:
#ThisIsBTS @BTS_twt @BTS_twt has earned the respect and love of many people and @RecordingAcad it is not that he is questioning his work, nothing to see, I just remind them of how perfect they are and deserve more than a Grammy. And @halsey You are wonderful @BigHitEnt 💜💜 pic.twitter.com/7M8rAMpopl

— Danielle (@Daniela98971546) November 21, 2019
Shocking
Its shocking that BTS despite all their hard work and breaking the language barrier and domination at chart didn't get acknowledged by Grammy's. But ARMY lets show them that we are never affected by awards but BTS's dedication to their work and music#BTSDeserveAGrammy@BTS_twt

— wallflower_2001 (@2001Wallflower) November 21, 2019
Hoping For Next Year
They deserve the Grammy. Hope for the next year 🤞#MAMAVOTE #BTS @BTS_twt pic.twitter.com/gj9J9jbUzv

— hopelover218 (@hopelover2181) November 20, 2019
Winning Hearts
A word which doesn't need an explanation @BTS_twt 💜💜💜#ThisIsBTS💜💜💜

A fandom growing rapidly day by day ARMY💜 .It doesn't matter u enter GRAMMY or not but what matters is that u have entered our hearts a gazillion times and you already have won all our hearts💕

— @btsarmy❤ (@btsarmy83632716) November 20, 2019
Living in Prejudices
Popularity and power can't offset prejudices.Grammy nominations don't get a singer to the top of his life, and singers don't go down the career path without being nominated.@BTS_twt #GrammyNominations pic.twitter.com/79vJhQVYx5

— 闵玧智 (@minyunzhi_bts) November 21, 2019
Worth More Than a Grammy
BTS themselves are worth more than any GRAMMY AWARD can mean #ThisIsBTS pic.twitter.com/Hd6jUJ8lV8

— Orffyy ❣️ (@Orffyy) November 20, 2019
This is BTS Among The Top Trends
They were not be GRAMMY nominees this year But Their songs and words everywhere in this world

They have a great impact #ThisIsBTS @BTS_twt

What a relief that we are there for each others💜 I purple you BTS and Army pic.twitter.com/Kt0gMrvqXz

— Sherley🐰💜 ~방탄소년단~ (@Sherleysaha) November 21, 2019
it's funny, Grammy have 1.01M tweets with multiple of artist and fandom while BTS have 995 tweets. Just the ARMY fandom alone #ThisIsBTS pic.twitter.com/nY0QHTG4m2

— YowwPurpleGurl (@hanah1224) November 21, 2019
Grammy, go down, today we can do without you#ThisIsBTS @BTS_twt pic.twitter.com/JkEAkSy5sF

— to the ground. (@tete19024221) November 20, 2019
The BTS Army got to trend the Grammy snub so much that it began trending in different parts of the world on Twitter. There are even now more reports on how there is still no openness to accepting Korean pop. Grammy's snub of BTS has got more people talking. Singer Halsey who too was expecting a nomination also stood with BTS and made her stance clear.
Check Halsey's Tweet on BTS Out of Grammys 2020:
deleting and ignoring all negativity. BTS deserved many nominations. I am however, unsurprised that they weren't acknowledged. the US is so far behind on the whole movement. the time will come.

— h (@halsey) November 20, 2019
Halsey had also collaborated with BTS for Boy With Luv. Her other singles Without Me, Graveyard, Nightmare were also among the top charts this year.