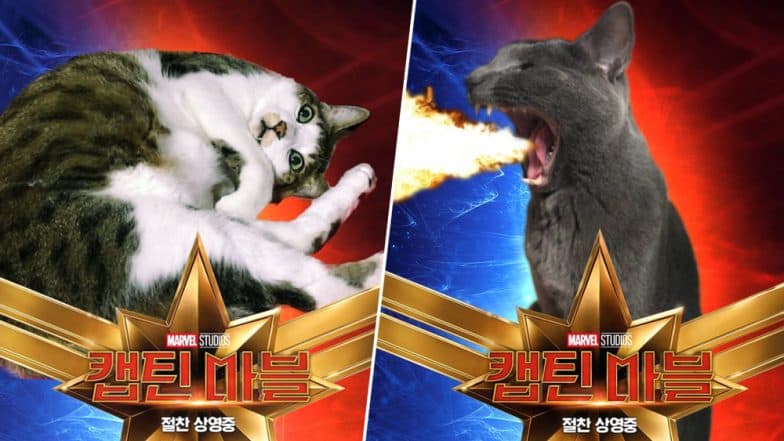 Captain Marvel hit the screens last week and is winning the box office ever since. However, apart from Brie Larson who was playing Captain Marvel, the cat playing Goose became has become an internet sensation. Goose the cat whose real name is Reggie has become favourite of people in Korea. Korean Marvel fans are recreating Goose's poster with their own feline friends and other posters of Captain Marvel and the results are going viral. Using ##캡틴마블_우리집구스, the whole world is getting in on the fun, as per Twitter. Captain Marvel's super cute cat aka Flerken named Goose has been trending on Twitter and HOW! The trend was reportedly spotted by Twitter user @doryheartsbooks who found the hashtag is filled with images of peoples' cats photoshopped into a Captain Marvel background.
Um... Korea is trending a hashtag for Captain Marvel's Goose in which people are editing their cats into a Captain Marvel background. #캡틴마블_우리집구스 Click on the hashtag. You're welcome.

— Dory Writes (@doryheartsbooks) March 9, 2019
Take a look at some of the tweets:
Yes, Captain Marvel is amazing, but my new obsession is her cat, Goose. pic.twitter.com/5VuZExoyXs

— Andrew Wallen (@itsandrewwallen) March 7, 2019
Trust me daddy, #캡틴마블_우리집구스 . Korean Twitter understands Captain Marvel. pic.twitter.com/pze1mUpp6U

— 24 Frames (@24Frames_UK) March 9, 2019
Aren't these super cute?
My Bond on the Goose poster... b/c #캡틴마블_우리집구스@captainmarvel #CaptainMarvel pic.twitter.com/dUTUq5KmsL

— Mischief Maker for Loki☀️ (@moira_hawthorne) March 9, 2019
Adorable
Goose's long lost flerken sister Peanut #CaptainMarvel⁠ ⁠ #flerken #Goose #CarolDanvers⁠ ⁠ #vers #cat #flake #캡틴마블_우리집구스 pic.twitter.com/j6oz4yVlI3

— Bulbdog (@bulbdog_) March 9, 2019
Can't even...
This is the second most important thing I've ever done #캡틴마블_우리집구스 pic.twitter.com/o8fynwzhyM

— Michael (@scottgoblue314) March 9, 2019
The squirrel
we don't a have a cat, so here is our squirrel. #캡틴마블_우리집구스 pic.twitter.com/TDj9gIh4UI

— The Lightning Thief Musical is in Detroit (@LTMusical) March 9, 2019
OMG
종족: 패러킨

성별: 남성

위험도: ★★★★★#캡틴마블_우리집구스 pic.twitter.com/tvn9ygOOll

— 김고롱 더 모란앵 (@GRthelittledino) March 9, 2019
The photoshopped pictures of adorable cats onto Marvel posters is winning hearts all across the internet. People who don't have cats are editing the poster with other pets they have like parrots and squirrels. We seriously can't get enough of the pictures!