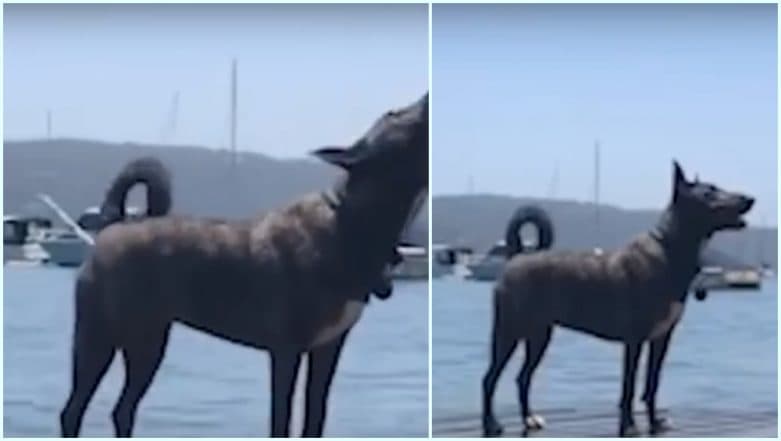 Why our canine buddies are so adorable? With every innocent act, they just brighten up our days. And a massive credit to social media for putting up such cute videos of the pooches which engages the dog lovers even in the worst of their boredom. We cannot get enough of dogs' videos! At recent, a pooch is caught on camera, shooting seawater out of his butt on a sunny day reportedly in Australia. The sight is absolutely adorable and equally hilarious and is now going viral all over social media. From Polar Vortex in US to Meghan Markle's Empowering Messages for the Sex Workers; 7 Videos That Went Viral This Week. 
According to Daily Mail, the canine was swimming off at Avalon Beach in New South Wales. After his quick swim time, he began to shoot streams of water from his beach bum that left the camera onlookers into laughter. In the video, the pressurised pooch can be seen letting off three quick barks, squeezing out three jets of water, before a pause and final bark and squirt combination. Hortaya Borzaya Dogs in Matching Turtlenecks This Winter. 
Watch the Video of Dog Barking & Shooting Butt Water
The dog water was quoted in Mail, "My puppy was swimming and playing fetch in the water. When dogs swim, water can enter their anal cavity. My dog was standing on a pier barking for her ball to be thrown and as she barked, water squirted from her backside." Video of a Pet Dog and Cat Loving Each Other is Going Viral. 
Yes, the video could appear funny, but there is this scientific phenomenon which less pleasant. A similar video of dog pumping water out of its backside went viral in 2008. The Inverse.com that time explained that such a situation occurs when the canine is suffering from a combination of an anal gland issue and 'beach diarrhoea.' At the stage, the dog might have drunk too much of salt water.