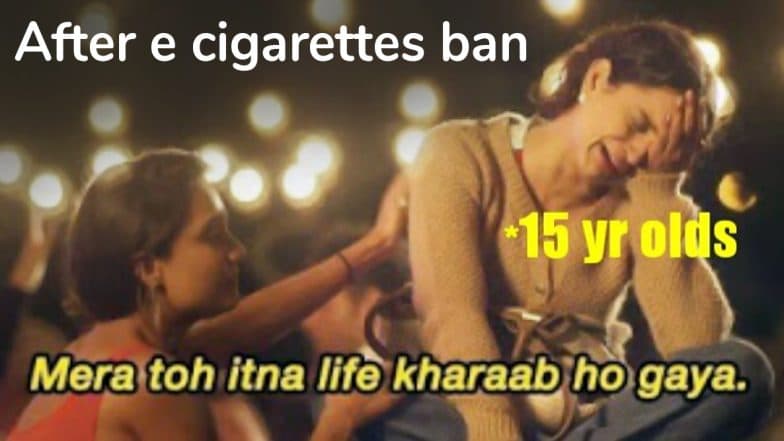 The Indian government's decision to ban e-cigarettes was received with praises and applause on social media. While most lauded the step, others took to put their creative brains to work. As the government's decision to ban e-cigarettes spread on social media, hilarious memes and funny GIFs around the topic went viral. People poked fun at the apathy of e-cigarette companies who probably did not expect a sudden death of their market in India. E-Cigarettes Banned in India! Twitter Lauds Government's Decision to Do Away With Smoking Devices.
Finance Minister Nirmala Sitharaman on Wednesday announced the government's decision to ban e-cigarettes in the country. Nirmala Sitharaman in a press conference held in Delhi on Tuesday said, "The Union Cabinet has given the approval to ban e-cigarettes. It means the production, manufacturing, import/export, transport, sale, distribution, storage and advertising related to e-cigarettes are banned." And meanwhile, Twitterati shares jokes, memes and GIFs at the cost of e-cigarette companies.  E-Cigarettes Banned in India: FM Nirmala Sitharaman Announces Blanket Ban on Sale of Vaping.
Check Out Some of the Best Twitter Reactions Here:
To all my friends addicted to #ecigarettes ... this is how it's done ... #dealwithit pic.twitter.com/DFnT4GsOhU

— Kadak Chai (@PeswaniGaurav) September 18, 2019
Quite a Possibility?
#ecigarettes banned in #India.

Wait!

Ok now normal cigarettes sale will increase.😃😃 pic.twitter.com/zzJh04R8Qa

— Rsingh (@RoopSmarty) September 18, 2019
HAHAHA
Tobacco cigarette companies after #ecigarettes ban pic.twitter.com/6reYUuioWL

— dead island (@SmilingLadka) September 18, 2019
Vaping Ain't Cool
After e cigarettes ban: pic.twitter.com/kXxzQOPawA

— KuSH (@KuSHashtra) September 18, 2019
Say What?
Ban e cigarettes, but allow regular cigarettes. pic.twitter.com/qvfVPGnzlx

— Mr. TicTic (@MrTictic) September 15, 2019
The Narendra Modi government in its second term had announced banning smoking devices like e-cigarettes, heat-not-burn smoking devices, vape and e-nicotine flavoured hookahs as the key priorities of the first 100 days agenda. Following the announcement today, Sitharaman said that the government will bring in an Ordinance and the matter will be taken to the Winter Session of Parliament. While most social media users appeared to support the ban, some criticised the fact that cigarettes were still available in the market. As some said vaping poses higher health threats, others said it posed lesser risk.