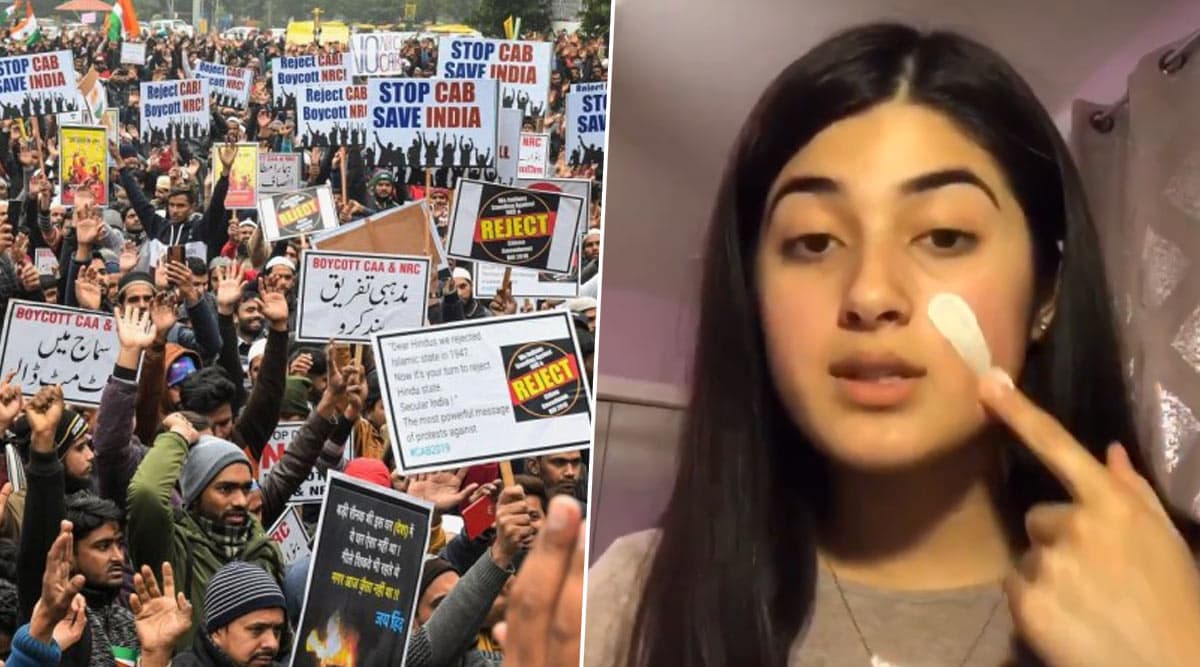 Feroza Aziz, who shot to fame by posting a TikTok video in which she criticised the Chinese government over its treatment of Uighur Muslims, has now shared a similar clip slamming the newly-passed Citizenship Amendment Act in India. Feroza Aziz, in her latest TikTok video, begins by appearing to show viewers her skincare routine. She then goes on to slam the Citizenship Amendment Bill or CAB (now Citizenship Amendment Act).
"Since obviously I'm breaking out so we are going to need some moisturiser, vitamin c oil and some rose water spray," she says at the beginning of the TikTik video. The US teenager then adds: "So I also wanted to talk about CAB which basically excludes Muslims to be granted citizenship in India and it also requires Muslims to show document proof that in fact they are Indian citizens and it's wrong and it's immoral." Mesut Ozil Condemns China's Policy Towards Uighur Muslims, Arsenal Fans in China Burn Club T-Shirts.
"It is a violation of human rights because this bill supposedly acts as a bill that grants refuge and sanction to those who need it but it excludes such a vast number of people solely on religion. It's wrong, it's immoral. Doesn't matter if you are Hindu, Sikh, Jain, Christian, etc, it does not matter what religion you follow, it does not make you any more or any less of an Indian," Feroza Aziz further says. Why Citizenship Amendment Act+NRC Raise Fear And Concerns: A Multi-Dimensional Take.
Feroza Aziz's TikTok Video on CAA:
Love this new skin care routine I found!!! It's amazing 😍🙌🏻#CAB #spreadawareness pic.twitter.com/SY9PexcECA

— feroza.x (@x_feroza) December 24, 2019
The 17-year-old girl had earlier used the TikTok platform to raise awareness of China's detention of at least a million Muslims in internment camps in Xinjiang. In a three-part series that went viral, Feroza had said: "Then you're going to put [the eyelash curler] down and use your phone … to search up what's happening in China, how they're getting concentration camps, throwing innocent Muslims in there, separating families from each other, kidnapping them, murdering them, raping them, forcing them to eat pork, forcing them to drink, forcing them to convert."
"This is another Holocaust, yet no one is talking about it. Please be aware, please spread awareness in Xinjiang right now," she had added. Her account was blocked for a brief period after her video went viral. Protests are underway in parts of India against the CAA which provides Indian citizenship to immigrants fleeing persecution in Pakistan, Bangladesh and Afghanistan - but not if they are Muslim.
Many see the CAA through the prism of nationwide NRC drive. While non-Muslims left out of the proposed nationwide NRC would be able to get citizenship under the CAA, Muslims who could not make the list may be deported.