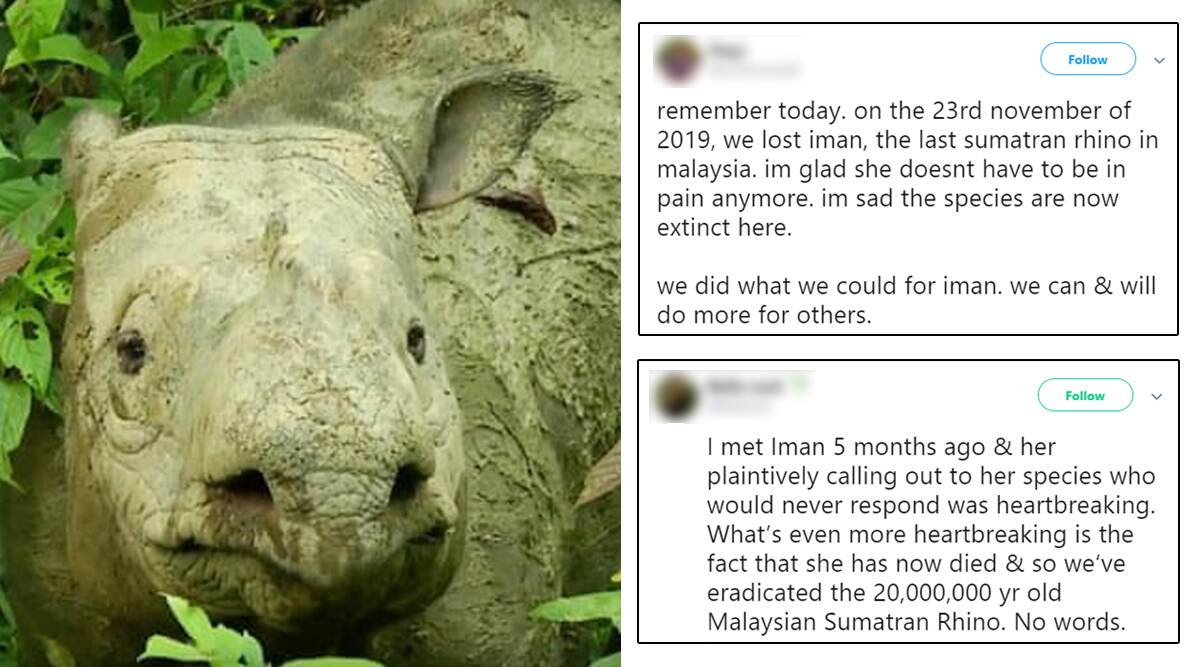 She was the last known Sumatran rhinoceros in Malaysia. Iman was 25-year-old when she passed away after suffering from cancer. Over the past few days, there have been reports of Iman's deteriorating health. Ever since she was taken into captivity in 2014, Iman had tumours in her uterus that have continued spreading. Despite the individual care and attention by a team of an expert veterinarian, Iman could not survive. According to media reports, breathed her last on Saturday, November 23, 2019, in the state of Sabah on the island of Borneo. As the news of her demise surfaced, people took to Twitter paying their final tribute as they mourn the loss of the last known Sumatran rhinos in Malaysia.
The tumour in her was detected when she was taken into captivity in March, 2014. They have since spread her bladder and could not be removed. Besides, the rhino has been suffering severe weight loss. Augustine Tuuga, director of the Sabah Wildlife Department, was quoted in media reports as saying, "Iman's death came rather sooner than we had expected, but we knew that she was starting to suffer significant pain." Sudan Passes Away; World's Last Male Northern White Rhino Was Euthanized. 
RIP Iman:
In a heartbreaking news.

The last Sumatran #rhinoceros just died in Malaysia. The species is now extinct from one more range country. Now there are some 30-80 such creatures available on whole #planet. Happening within our lifetime. PC - Net. pic.twitter.com/YR7Yep2pUC

— Parveen Kaswan, IFS (@ParveenKaswan) November 24, 2019
Twitterati mourns her death. Some of them are even sharing glimpses of Iman, the last time when they visited her. Netizens unanimously pray for her soul to rest in peace.
Twitter Mourns:
Malaysia's last Sumatran rhino Iman has died but her memory lives on. pic.twitter.com/Y2v7tcfOw7

— Daily Express Sabah (@DailyExpress_MY) November 23, 2019
People Share Their Memories Spend With Iman:
I met Iman 5 months ago & her plaintively calling out to her species who would never respond was heartbreaking. What's even more heartbreaking is the fact that she has now died & so we've eradicated the 20,000,000 yr old Malaysian Sumatran Rhino. No words. https://t.co/eJyDIoKSee

— Bella Lack 🌱 (@BellaLack) November 24, 2019
Yes, We Can!
remember today. on the 23rd november of 2019, we lost iman, the last sumatran rhino in malaysia. im glad she doesnt have to be in pain anymore. im sad the species are now extinct here.

we did what we could for iman. we can & will do more for others.https://t.co/LIURp24Or7

— freyr (@sunfloweraidil) November 23, 2019
Iman's death came nearly six months after the demise of Malaysia's only male rhino, Tam. In 2017, another female rhino died in captivity in Sabah. Efforts to breed the species in the country so far have been failed. Sumatran rhinos were declared extinct in the wild in Malaysia in 2015. The species have been hard hit by poaching and habitat loss.
According to official data, the Sumatran rhinos has now almost disappeared from the wild and conservationists estimate that only about 30 to 80 of them survive around the world. Most of the species can be found on the Indonesian island of Sumatra and on the Indonesian side of Borneo.