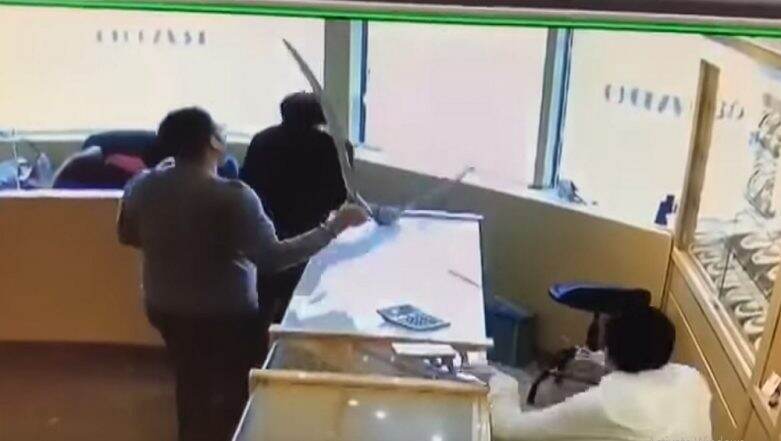 Toronto, November 24: Displaying bravery and great presence of mind, three employees of an Indian jewellery store thwarted a robbery attempt in Mississauga, Canada on Wednesday. The employees used swords to scare away the robbers. The entire incident which was recorded on CCTV is now doing rounds on social media. The four robbers had attempted to break into Ashok Jewellers' store, after which the store staff charged them swords and prevented them from entering the shop. Mom Saves a Robbery by Killing Gunman Outside a School in Sao Paulo, Watch Video
In the video, it could be seen that the masked robbers attempted to enter the jewellery shop by breaking the glass. The robbers made repeated attempts to enter the shop and ever tried to scare the showroom employees with hammer and gun. But as they saw employees charging towards them with swords, robbers fled from the spot. No injuries or loss of property has been reported.
Here is the video of the incident:
Police also released another footage captured by an external camera. In the footage it was seen the after the failed robbery attempt, all the robbers fled in a dark coloured SUV. The footage of this incident is being widely shared on Twitter.