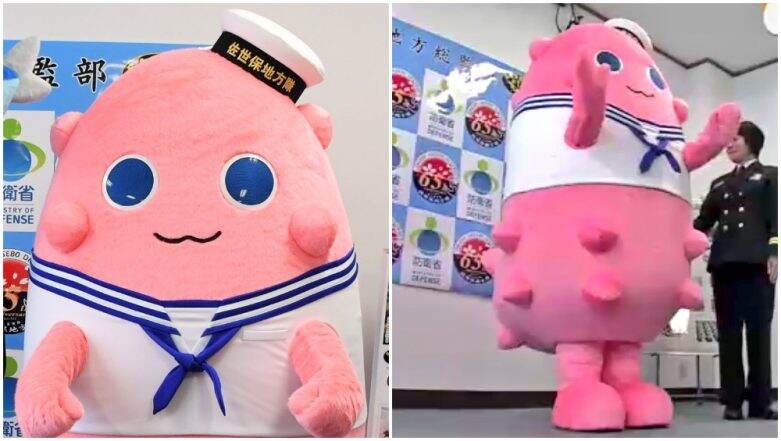 Japan has announced a pink sea cucumber named Namakoro as the new mascot of their Maritime Self-Defence Force in the Sasebo region. Dressed in a white sailor suit, the sea cucumber looks cuter than anything that you have seen today. The pink sea cucumber was chosen as the mascot for its bravery and thick skin that protects it from enemies.
During times of distress, this sea creature does not run away into a hiding, but fight them bravely. And the thick skin helps it win the situation. As pictures of the news mascot went viral, social media users could not stop praising at its cuteness. A Twitter user commented saying, "Ah yes, the stalwart defenders of the ocean... Sea cucumbers while another exclaimed, "I love Namakoro!" 2018 Men's Hockey World Cup Mascot: Olly, the Olive Ridley Sea Turtle Is Officially Unveiled as Mascot in Odisha.
Here are pictures of Namakoro, the mascot of Japan's Maritime Self-Defence Force:
Namakoro the pink sea cucumber was picked as a mascot for Japan's Maritime Self Defense Force because sea cucumbers don't run, don't hide, and have thick skin which is good for protection from enemies. pic.twitter.com/jUoeSmdFzH

— Mondo Mascots (@mondomascots) October 25, 2018
Recently, a video of a headless chicken wading in the deep, dark waters of East Antarctica in the Southern Ocean went viral on social media. It creature that debuted as the headless chicken monster on Twitter was found to be a kind of deep-sea cucumber that could swim with its wing-like fins. Its scientific name is Enypniastes eximia. The rare sight had bewildered many as pictures and videos of the creature was shared widely on social media. Meanwhile, do you like the new mascot of Japan's Maritime Self-Defence Force? Do let us know your views in the comment section below.