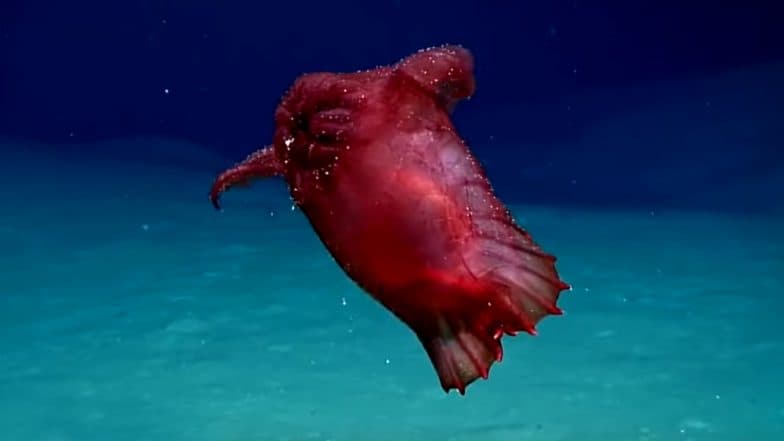 The life dwelling in deep seas or extreme underwaters is sure mysterious. The creatures in the deep oceans, especially those in remote continents are no less than terrifying. In the Southern Ocean around Antartica, a bewildering creature has been filmed for the first time. It is called as the headless chicken monster. The name sound outright creepy, but this creature is definitely not a monster or a chicken either, it is a sea cucumber. The unusual species of sea cucumber was captured casually swimming in the deep oceans. Blood Falls in Antarctica? Scientists Have Solved The Mystery of Flowing Red Water Decades Later. 
The scientific name of the sea cucumber is enypniastes eximia. In appearance, it is dark pink in colour, has wing-like webbing on its sides, which helps in its movement under water. There is no particular structure as a head but just ring of tentacles, and a size of a small chicken. It is for the first time, scientists have been able to film this rare creature on camera. It was captured by the Australian Antarctic Division. Ocean Zone Discovered in Bermuda: Territory is Home to over 100 New Species of Marine Life. 
Check Video of the Headless Chicken Monster Caught in South Antarctica
Dr Dirk Welsford of Australian Antarctic Division said, "Some of the footage we are getting back from the cameras is breathtaking, including species we have never seen in this part of the world. The cameras are providing important information about areas of sea floor that can withstand this type of fishing, and sensitive areas that should be avoided." This footage will help in studying and driving conservation efforts of the marine ecosystem. This creature was captured quiet luckily and it is indeed breathtaking to see such a creature pop up, whose existence was also not known to the world.