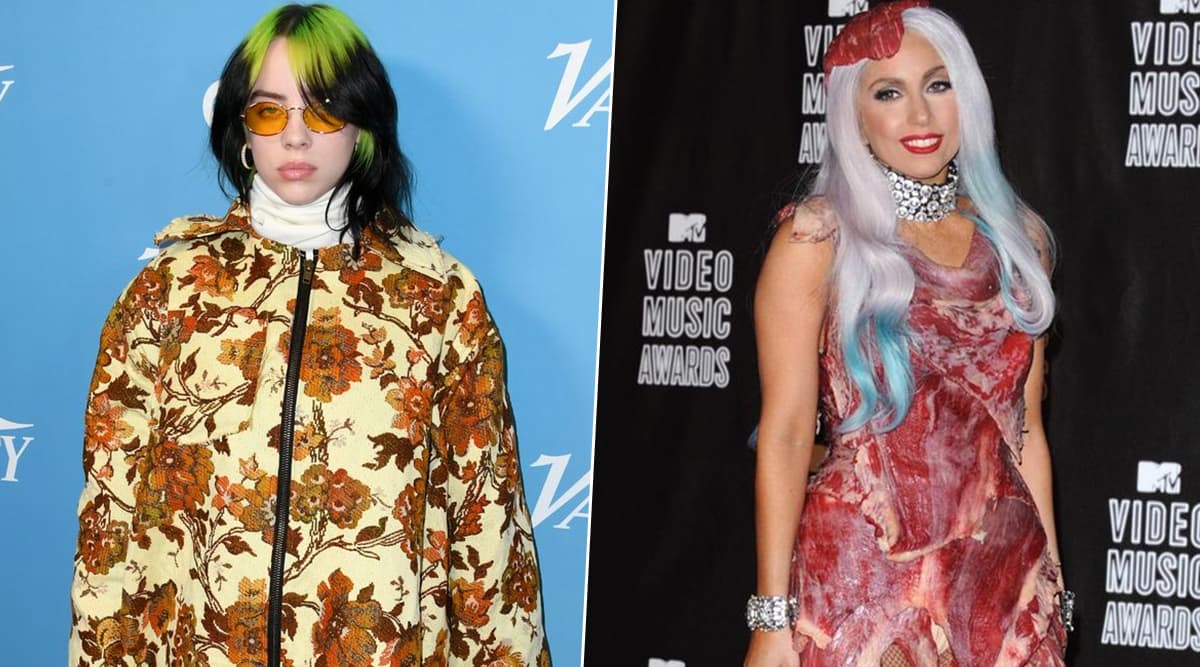 Singer Billie Eilish doesn't care what people think of her response to singer Lady Gaga's infamous meat dress. Gaga wore the elaborate garment, formed from cuts of red meat, to the 2010 Video Music Awards, and it has gone on to become one of the star's most iconic looks, reports aceshowbiz.com. While attending the 2019 Variety's Hitmakers Brunch with her brother and collaborator Finneas O'Connell (FINNEAS) on Saturday, December 07. Lady Gaga Makes a Beautiful Bridesmaid for Best Friend and Makeup Artist Sarah Tanno (View Pics)
The 17-year-old singer was asked to comment on the backlash she faced after criticising the gown in a recent interview - something she says hasn't fazed her. "I didn't even know about it. I don't even care. Why would I care? I don't know. People try to frame me for being shady and I'm not even, so I don't care. I'm just being honest, I'm not gonna lie!" Eilish said. Lady Gaga Looks Sensational And Classy With Impeccable Makeup Game For Elle Magazine! View Pics.
Have a look at some Billlie Eilish trolls
Tweet#1
Y'all really expect Billie (a vegan) to say anything other than yikes at the meat dress?? Wild. #BillieEilishisoverparty pic.twitter.com/InGyTKLNWj

— VENOMmxxmb (@JonssonWynter) December 6, 2019
Tweet#2
The dress was weird. It was made of meat. I don't understand how people can actually begin to bully a 17 year old VEGAN for not liking it? I really hope this is a joke. Idiots. #BillieEilishisoverparty pic.twitter.com/c3S4SejEMh

— Isaiah Ortiz (@isaiahrules15) December 6, 2019
Tweet#3
@billieeilish listen you rat, never dare to disrespect the lord again, RAT

#BILLIEEILISHISOVERPARTY pic.twitter.com/MhqzfSVOJd

— Muhammad 💎 (@MariahKid) December 5, 2019
Tweet#4
Dude I've been a Gaga fan since the beginning. & even I'm not mad at Billie Eilish.

Y'all are just sad for trying to cancel a 17 year old VEGAN for her own opinions/beliefs.

Like you think Gaga was bothered by all the opinions back then, let alone now?#BillieEilishisoverparty pic.twitter.com/dWXOn7aPa3

— Cheyenne 🥑 (@really_cheyenne) December 6, 2019
Tweet#5
I've never understood y'all's hate for Billie. y'all don't have any good reason lmao, but for some reason you keep finding some dumb excuse to invalidate her depression, make fun of her name, hate on her fans, and bully tf out of her FOR WHAT???#BillieEilishisoverparty pic.twitter.com/jiXhD4kldr

— 𝐲𝐞𝐥𝐞𝐧𝐚'𝐬 𝐰𝐡𝐨𝐫𝐞 ⧗ (@bitchcraftwidow) December 6, 2019
The backlash came after the "Bad Guy" hitmaker said she used to watch the music awards show just to check out the women's outfits. When Finneas mentioned Gaga's meat dress, Eilish, who is a devout vegan, responded "yikes". The moment soon went viral, with GaGa fans slamming Billie with the hashtag #BillieEilishisoverparty.