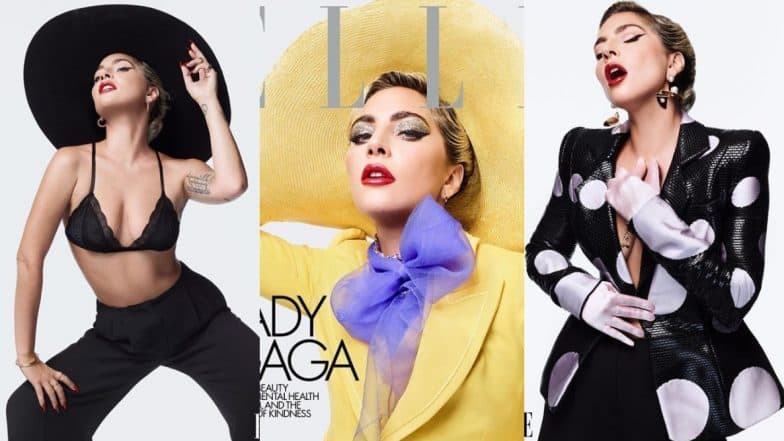 Lady Gaga has her way with blowing minds, either with her acting or with her singing. But first and foremost, the diva's eccentric take on fashion and style is what makes her fans go gaga. In the recent issue of Elle magazine, Gaga was interviewed by Oprah Winfrey. Discussing fame, her beauty empire, mental health activism and the power of kindness, Gaga surely put one interesting interview. In her chat with Oprah, Gaga did talk a lot about all the struggles while maintaining a strong face in front of the media, we have to admit that the photoshoot pictures are just as interesting. Lady Gaga Practically Stripped From A Gown To Shimmery Lingerie As She Walked The Met Gala 2019 Red Carpet - Watch Video!
Wearing intriguing makeup from her beauty brand, Haus Laboratories, Gaga donned a bright and sunny ensemble on the cover of the magazine. With a lovely lavender-hued scarf tied as a bow around her neck, Gaga's yellow suit with a giant hat is beautiful! But that's not the only image that got our attention. In another inside picture, she is seen donning black trousers with a black bra and a giant black hat. Another shot has Gaga being dramatic as she aces a polka-dotted blazer with fun earrings and makeup by Haus Labs. You can check out all the pictures from the photoshoot below! Lady Gaga Talks About The Truth Behind The Sizzling Chemistry With Bradley Cooper At Oscars 2019
Lady Gaga on the cover of Haus Labs
Gaga slaying us with her sexy look
View this post on Instagram
Gaga being super dramatic!
View this post on Instagram
A rockstar we all love
View this post on Instagram
A look too elegant for words
View this post on Instagram
In her interview with Oprah, Gaga did speak about the much-hyped romance rumours that took place thanks to her sizzling chemistry with her A Sar is Born co-star Bradley Cooper. Adding that it was all part of their plan to make the audience feel like they are in love, the romance at the Oscars 2019 performance was all just make-believe.