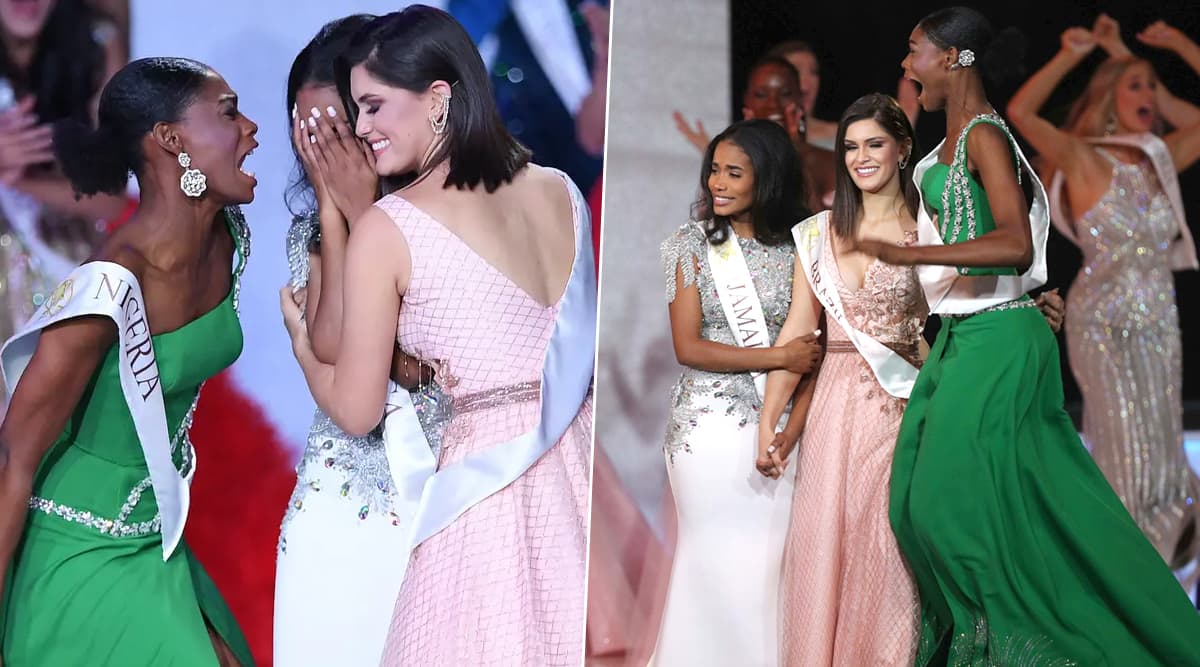 The beauty pageant of Miss World 2019 took place on December 14 and Miss Jamaica Toni-Ann Singh took the crown home. As everyone lauded for her win, it was Miss Nigeria Nyekachi Douglas' reaction to the winner announcement which cannot be taken off one's mind. Douglas erupted in cheer and hugged Toni-Ann Singh very tightly as she had tears of happiness. Her enthusiastic reaction with the joyful jumps has left the internet emotional craving for a friend like her in life. Miss Nigeria had a more thrilling reaction than winner Miss Jamaica itself and it has given hopes to the netizens to have someone like her in life. People are tweeting 'Need a Miss Nigeria' in life, who is as excited about your success. Miss World 2019 Winner Toni-Ann Singh: 5 Lesser Known Facts About the Jamaican Beauty Queen You May Not Have Known (View Pics).
While the event was over on Saturday, people cannot forget Miss Nigeria Nyekachi Douglas' reaction. Many are sharing the winning announcement videos with captions like 'need that energy in life.' Douglas' reaction was so joyous that one would wonder if she was the one who won. While Toni-Ann Singh looked a little shocked as she stood still, Douglas made up with her happy jig and tight hug to Singh. Her reaction is getting all the love on social media and everyone is hoping to have someone like her in life. Suman Rao Crowned Miss World Asia 2019: Things About Miss World 2nd Runner-Up You Didn't Know.
Watch Video of Miss Nigeria Nyekachi Douglas' Enthusiastic Reaction:
Check Tweets About 'Need Miss Nigeria' in Life:
Miss Nigeria Won The World's Hearts!
Miss Jamaica :- Won the Miss World 2019 🙏

Miss Nigeria:- Won The World's heart ❤️❤️❤️

We need this type of friends and support in our life ...❣️ pic.twitter.com/4UI0HHUitL

— Satyendra (@SatyendraRajan7) December 15, 2019
2020, Bring Such People in Life
In 2020 we all need friends like Miss Nigeria 🥰

— Mary Grace Eppes (@mg_eppes) December 16, 2019
Yes and for 2020 I need more people in my life like Miss Nigeria!

— Feuza (@Feuza) December 17, 2019
Need That Energy
#MissNigeria is the energy we all need in these dark times. https://t.co/456cl22rw3

— Dxmxxn (@dxmxxn_xnc) December 16, 2019
Such Support Much Wow!
Miss Nigeria rooting for Miss Jamaica is the type of support ya black men/women need to have for one another. We personally may have not won but if our sister/brother won we STILL won

— La Jefa (@reinafrmthe6ix) December 16, 2019
Need This in Life
MISS NIGERIA IS THAT FRIEND YOU DEFINITELY NEED IN YOUR LIFE 😭🇯🇲🇳🇬#MissWorld2019

— Dav-angelo 🌒 (@DavionOfCourse) December 14, 2019
A lot of people have shared her video and mentioned how we need more such women supporting women in today's time and age. Miss Nigeria may have lost the competition but today she has indeed won many hearts.