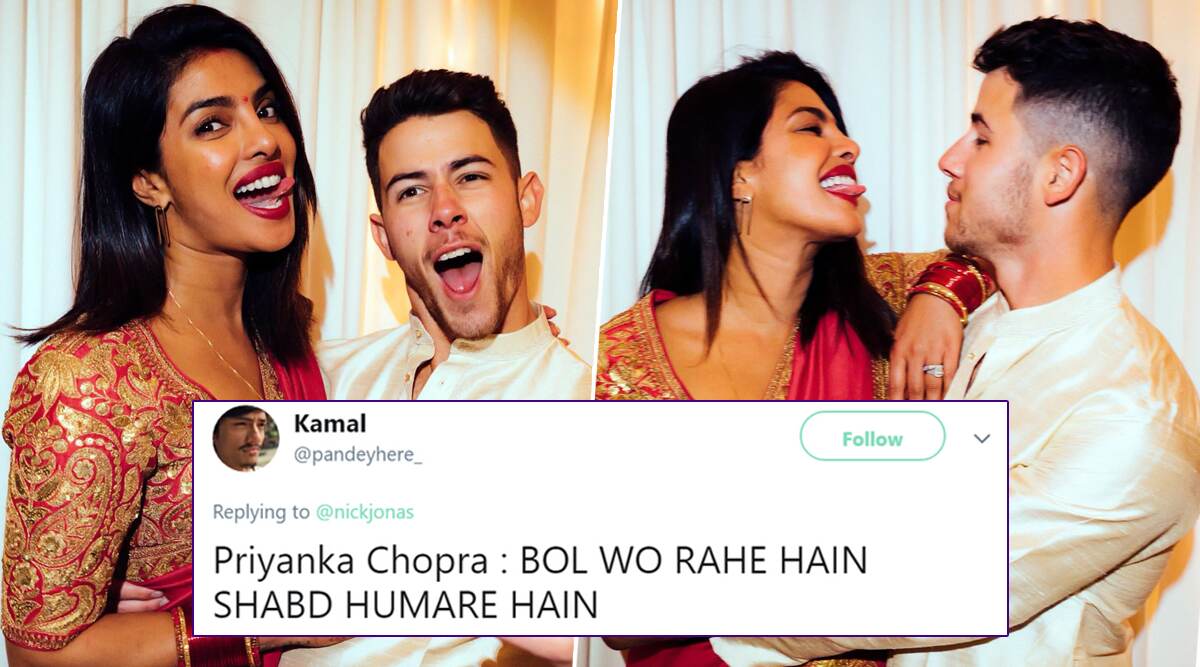 Nick Jonas and wifey Priyanka Chopra celebrated their first Karwa Chauth this year and the pictures are adorable! Priyanka and Nick are not the kind of couple to shy away from PDA on social media and to nobody's surprise, there were numerous Karwa Chauth pictures of the duo. They documented every bit of their celebration and fans love it! However, a tweet by Nick Jonas has raised eyebrows and people believe it was Priyanka who wrote the tweet out for him. Did she help him? Did she draft the tweet? Twitter has some hilarious speculations and assumptions in the replies to his tweet. Karwa Chauth 2019: Priyanka Chopra and Nick Jonas' Picture from Their Celebration Goes Viral and You'll See Why.
Nick Jonas may have tried to look like a cute husband who wants to show off his love to the whole world. However, his Karwa Chauth post for Priyanka Chopra was not recieved well by the public. People assumed it was drafted by Priyanka Chopra and some even said it was written like a kid's essay. Priyanka Chopra and Nick Jonas Celebrate First Karwa Chauth at the Jonas Brothers Concert - See Pictures.
Nick Jonas' Karwa Chauth Tweet
My wife is Indian. She is Hindu, and she is incredible in every way. She has taught me so much about her culture and religion. I love and admire her so much, and as you can see we have fun together. Happy Karva Chauth to everyone! pic.twitter.com/ePlcFwWS6V

— Nick Jonas (@nickjonas) October 18, 2019
And It Starts!
When you are asked to write an essay on your wife as homework.

— Human Rights (@HumanRightsWat8) October 18, 2019
Another One!
What happened to your English?? Maybe priyanka has taught you desi version of english too😂😂

— yaminwatali (@yaminwatali) October 18, 2019
Maybe It Is Her
Get off his Twitter Prianka.

— Ammar Khan Jadoon (@ammarjadun) October 18, 2019
Snape Meme Never Gets Old
nick jonas after reading this tweet WHICH IS written by PC pic.twitter.com/UIAQm2pOX1

— AVINASH (@AVINASH87740956) October 18, 2019
One Of The Most Common Remarks
"as you can see we have fun together" sounds so forced

— Seeby (@seeby123) October 18, 2019
Did She?
Did Priyanka made you write all of this forcefully? Stop venting niCk

— youprobablyknowme. #SaveKashmir (@iihumanitarian) October 18, 2019
Maybe It Was Nick?
Priyanka Chopra Ma'am, Tweet from your own account. 😂

— ΓIGHTSTEΓ (@TheRightster) October 18, 2019
LMFAO
Priyanka Chopra:- pic.twitter.com/TU4SGrTJzN

— ROHAN MISHRA (@im_rohanmishra) October 18, 2019
NO COMMENTS
Ashtma:10 days to go 🤣

— pun_ekar (@Pun_ekar) October 18, 2019
The Best One!
Why does this sound like an essay a 1st standard kid has written. LMAO https://t.co/zGmiNJIPDQ

— Bachpan ki dost (@sifar_07) October 18, 2019
Some of these tweets are funny and some are absolutely brutal. While we're not sure who drafted this, we will have to agree the tweet is a little strange. One thing we can't deny is that the couple really looks like they have fun. We hope they loved their first Krwa Chauth together!