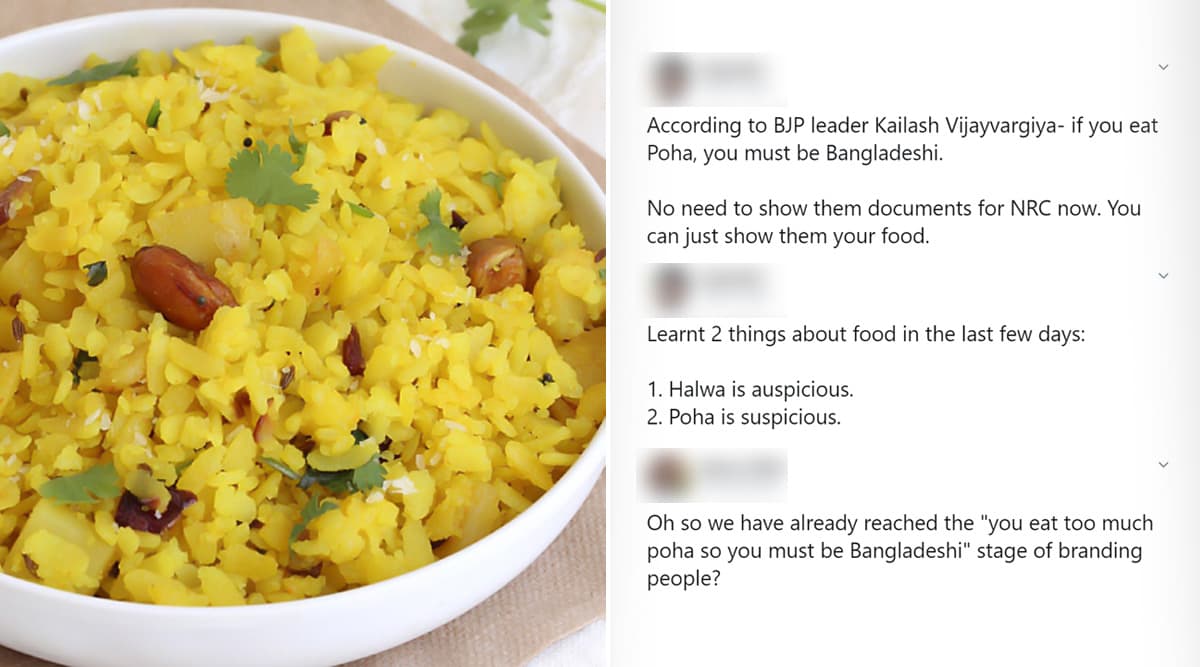 Poha, the most sorted breakfast that we Indians vouch for is trending on Twitter. No not for its delicious taste, but the flattened rice is now defining your nationality. Turns out eating poha can make you anti-national. Yes, just when you thought the definition was only limited to meat-eaters, BJP leader, Kailash Vijayvargia has taken it to another level. Vijayvargia was recently quoted saying that he doubted there were some Bangladeshis among construction labourers, working at his house recently. How he identified them? Well, they were 'only' eating poha. The minister's statement was not welcomed by Twitterati. And here enters, Poha jokes! Since morning, 'Poha' is going viral on Twitter as netizens share funny tweets in respond to Vijayvargia's statement.
Vijayvargia raised the suspicion at a seminar being held in Indore in support of the Citizenship Amendment Act (CAA). He suspected the nationality of the construction workers by their "eating habits." The BJP leader was quoted in reports as saying, "I suspected these workers were residents of Bangladesh. Two days after I became suspicious, they stopped working at my house. I have not filed any police complaint yet. I only mentioned this incident to warn people."
Here's What Vijayvargia Said:
BJP leader Kailash Vijayvargiya says some of the labourers carrying out construction work at his house recently were likely to be Bangladeshis as they had "strange" eating habits and were consuming only 'poha' (flattened rice)

— Press Trust of India (@PTI_News) January 23, 2020
The BJP leader's statement went viral on social media. Twitter erupted with responses trolling the minister for judging the labourer's nationality based on their eating habits. People pointed out how poha is a staple breakfast for many Indians, and it is cheap and filling, and daily wage labourers can afford that.
Funny Tweets in Response to Vijayvargia's Statement:
Oh so we have already reached the "you eat too much poha so you must be Bangladeshi" stage of branding people? https://t.co/wz9dBCe3J2

— Manu S Pillai (@UnamPillai) January 23, 2020
Savage!
Poha and aazadi. Two things I love. pic.twitter.com/fGlG2JbN75

— भ्रष्ट+ಆಚಾರಿ 🏳️‍🌈 🐾⚖ (@Chhoti_Farmer) January 24, 2020
LOL:
Learnt 2 things about food in the last few days:

1. Halwa is auspicious.

2. Poha is suspicious.

— PuNsTeR™ (@Pun_Starr) January 24, 2020
Oh, It Does!
From beef to poha- the anti national food list grows with great rapidity

— Ajay Kamath (@ajay43) January 24, 2020
So Simple!
According to BJP leader Kailash Vijayvargiya- if you eat Poha, you must be Bangladeshi.

No need to show them documents for NRC now. You can just show them your food.

— PuNsTeR™ (@Pun_Starr) January 24, 2020
LMAO!
My dhobi showed up eating a burger. I think he's American.

— Kajol Srinivasan (@LOLrakshak) January 24, 2020
And So Many of Us:
If eating poha is the criteria, my dad will be an illegal immigrant every day

— Teju (@tejujoshi31) January 24, 2020
Note the Health Benefits:
So getting prepared for new responsibilities!!

Nutritionists recommend #poha as one of the healthiest Indian breakfasts. "Poha💕 is a wholesome meal. It is a good source of carbohydrates & iron, rich in fibre, a good source of antioxidants and essential vitamins & is gluten free pic.twitter.com/yAfbYaqIgF

— Abhishek Singh (@TweetyBoy93) January 24, 2020
The above suspicion has come after the recently enacted CAA and NRC. The former gives citizenship to Hindu, Sikh, Parsi, Buddhist and Christian immigrants from Pakistan, Afghanistan and Bangladesh, who have lived in India without documentation. And the later, NRC seeks the prove of Indian citizenship. Vijayvargia's statement came in support of CAA as he stressed that the act is in the interest of the country amid the ongoing mass protest against the act and NRC.