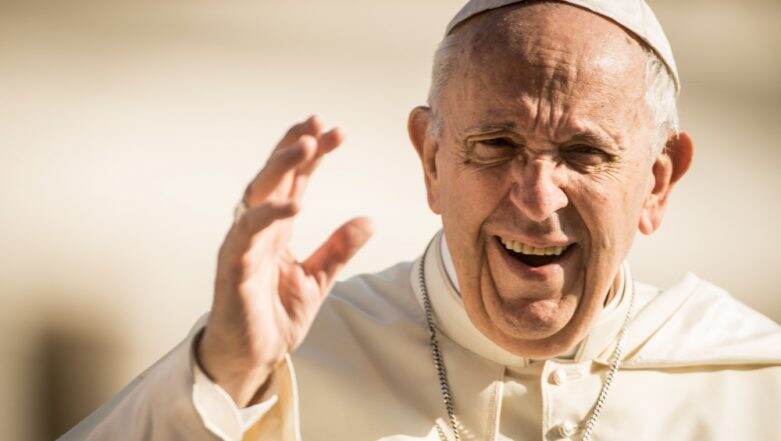 Footage of Pope Francis shaking hands with worshippers is going viral, not for the many reasons that you could think of. So, on March 25, the Pope was greeting worshippers at the Italian pilgrimage site dedicated to the Virgin Mary at Loreto. But he appeared reluctant to allow the lay people to pay him the respect of kissing his papal ring, simple silver with a cross—the sacred symbol of the Pope's union to the Church. The short video, which runs for about 70 seconds, was shared everywhere on social media, sparking headlines and debates around the world. In A Historic First, Pope Francis Begins Three-Day Visit To The UAE. 
While some people were allowed to kiss the papal ring, footage of the Pope pulling his hand away from others quickly became the latest flashpoint. According to media reports, the clip was taken from the vision in which he can be seen greeting people for more than 10 minutes. However, in the more extended section of interactions, worshippers can be seen kissing and holding the hands of the Pope, without issue. Pope Francis, Grand Imam of Egypt Kiss In UAE, Call For World Peace. 
Watch Video Pope Francis Ring-Kissing Moment
So, how do you greet a Pope? Well, as per various outlets, for centuries, it was Catholic tradition to kiss the papal foot. Today, many worshippers choose to bow and kiss the papal ring. There is altogether a prolonged moment, then what has been going viral of the Pope withdrawing his hands. Was he doing it on purpose? The Pope's actions in the video are a short section of a more extended sequence. As pointed by BBC, the official Vatican TV footage shows that Francis stood in a receiving line for around 13 minutes and received hundreds of monks, nuns and parishioners.
No one seemed to offer any instruction on how to greet him. At first, people shook Francis's hand without bowing down to kiss his ring. Again, others bowed down to his hands, either making the symbolic gesture of kissing of ring, or kissing the ring itself. Well, the reason, of the Pope's behaviour is still not known. However, there could be a possibility that he was in a hurry to get to the end of the receiving line, or he may not enjoy his ring being kissed. But it is inaccurate to speculate that he rejected all those who offered the gesture.