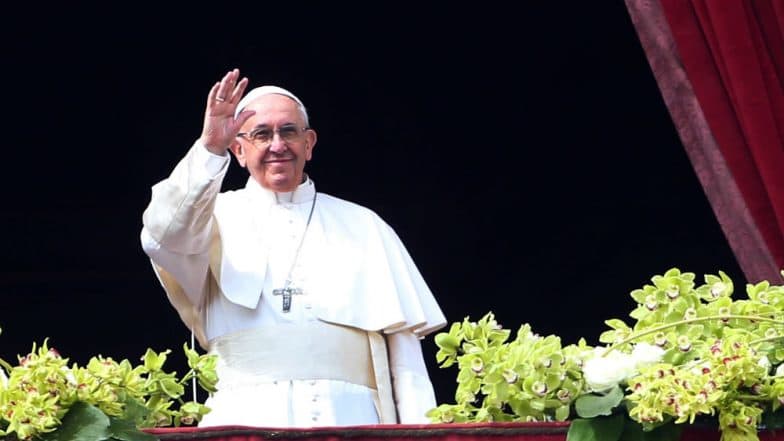 Abu Dhabi, February 3: Pope Francis is visiting the United Arab Emirates for three days beginning Sunday. This trip by Pope Francis is a historic one as it is the first ever by the leader of the Roman Catholic Church to the Arabian Peninsula, the birthplace of Islam.
The pontiff is visiting the UAE to attend  an inter-religious conference on Monday called the Global Conference on Human Fraternity at the behest of the UAE's leadership, which has proclaimed 2019 the "Year of Tolerance". He will meet Grand Imam Sheikh Ahmed al-Tayyib, the Head of Al Azhar, one of the highest religious authorities in the Muslim world.
I am about to leave for the United Arab Emirates. I am visiting that Country as a brother, in order to write a page of dialogue together, and to travel paths of peace together. Pray for me!

— Pope Francis (@Pontifex) February 3, 2019
Hours before he flies back to Rome on Tuesday, Pope Francis will hold an open-air mass for over one lakh Catholics in Zayed Sports City Stadium in Abu Dhabi, set to be the largest such gathering in the UAE, according to local media.
Nearly one million Catholic migrants reside in the UAE, mostly hailing from the Philippines and India. Around 135,000 have secured precious tickets to Tuesday's mass at Zayed Sports City Stadium. On Sunday morning, hundreds of Catholics queued in drizzling rain outside St. Joseph's Cathedral in Abu Dhabi to get their passes.
"I think the pope coming really opens doors for conversations about tolerance that the whole world needs to hear," said Collins Cochet Ryan, a 39-year-old expectant mother from the US.
For Indian Doris D'Souza, who lives in Goa, Pope Francis's trip to the UAE was not to be missed. "Since I came to know about the pope's visit to Abu Dhabi, we jumped (at) the opportunity to be witness."
The UAE capital's main streets and those leading to St. Joseph's Cathedral -- which the pope is set to visit on Tuesday -- were lined with Vatican City flags and banners of the interreligious meeting.
UAE minister of state for foreign affairs Anwar Gargash extended an official welcome to Pope Francis on Sunday. "It is a visit that carries great humanitarian value, and the UAE adds a new (chapter) in the history of fraternity and tolerance," he tweeted.
The UAE prides itself on its religious tolerance and cultural diversity. It has eight Catholic churches. Oman, Kuwait and Yemen each have four. Qatar and Bahrain have one each, while ultra-conservative Sunni powerhouse Saudi Arabia bans all non-Muslim places of worship. The UAE has however been criticised by rights groups for its involvement in a bloody Saudi-led military intervention in Yemen, where an estimated 10,000 people have been killed in four years of war.
Before heading to the Gulf, Pope Francis had a political message couched in humanitarian language for the regional players as he urged warring parties in Yemen, where the UAE backs the government against Houthi rebels, to respect a truce agreement. "I appeal to all parties concerned and to the international community to allow the urgent respect of established accords to ensure the distribution of food," he said.
"The population is exhausted by the lengthy conflict and a great many children are suffering from hunger, but cannot access food depots, he added. "The cry of these children and their parents rises up to God." Read: Fresh Conflict Pushes Yemen In to An Abyss of Starvation and Death
Millions of Yemenis are living in dire humanitarian conditions with record-high starvation levels, according to the UN.
Despite laying out the red mat for Pope Francis' visit, rights groups have slammed the UAE and called out its hypocritical stand for upholding a 10-year prison term against human rights activist Ahmed Mansoor on December 31 – two weeks after the UAE declared 2019 the "Year of Tolerance". "Despite its assertions about tolerance, the UAE government has demonstrated no real interest in improving its human rights record," Sarah Leah Whitson, Middle East and North Africa director at Human Rights Watch, said Sunday. "But the UAE has shown how sensitive it is to its image on the global stage, and Pope Francis should use his visit to press UAE leaders to meet their human rights obligations at home and abroad." (With inputs from PTI & AFP)