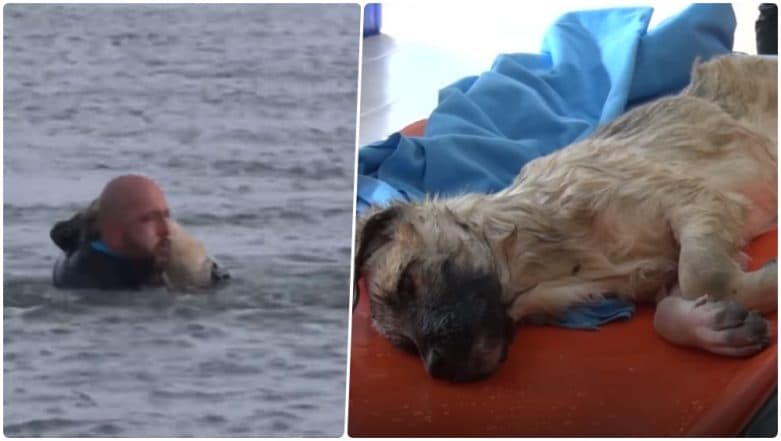 In almost every corner of the country, the temperature has started dipping down. As the clouds creep to cover the sun, a number of lakes, ponds and oceans freeze for the winter months. At recent, a puppy was discovered stuck in a frozen lake in Turkey. It was clinging to life, and a brave police diver braved the ice to save the dog. Thankfully, he was successful, and the furry friend is under treatment now. The municipality of Van released the video which is going viral, showing officer Burak Okten swimming about 150 metres from the shore of Lake Sihke and trying to break the ice carousel with his arm. Husband Tells Wife, 'You Love Those Dogs More Than You Love Me' Before Throwing Their Chihuahuas Off The Balcony. 
The locals alerted the police authorities about the dog being trapped in the lake after falling through cracked ice. Okten proceeded to approach the dog, fighting against the time to save the canine. He broke several large chunks of ice. Okten was quoted in a Turkish pro-government, Daily Sabah as saying, "The lake was frozen. It was hard to reach the dog. Sadly the dog suffered hypothermia due to frigid waters. It was a tough swim but well worth it as I am happy to save the animal. Now the veterinarian will take care of it, I hope it will survive." Pets Not For Sale in UK? Government Bans Shops Selling Puppies and Kittens. 
Watch the Video of Puppy Rescued by Brave Police Diver
Veterinarian Shah Ismail Bilge reported the dog to be in critical condition, but they are hoping for a full recovery. "We received a response after initial treatment. It suffered hypothermia and its condition is critical. It is placed in intensive care right now. We hope it will respond to the treatment and recover," says Bilge in the same report. It is very risky for anybody to stuck in the frozen lake. The officers further assured that the canine would receive all necessary treatments required for it to recover.