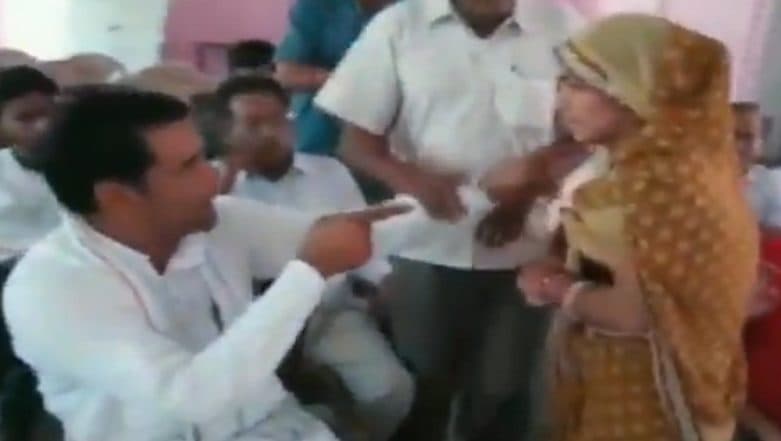 Jaipur, June 27: In a rare incident, a woman member of a Panchayat Samiti in Jhunjhunu is seen "hitting" her male counterpart in presence of other elected representatives. Video of the incident has gone viral on social media. In the footage, the woman blamed the man of being misogynistic while assaulting him.
The woman who could be the seen heckling, pushing, hitting and attempting to slap the man has been identified as Hansa Verma. The person who is at the receiving end of her fury is Rakesh Kaswan. Madhya Pradesh Shocker: Rape Survivor's Father Ordered by Village Panchayat to Host Non-Veg Feast
Watch Video of The Incident:
#WATCH Rajasthan: Panchayat Samiti member Hansa Verma hits another member Rakesh Kaswan during Panchayat meeting in Jhunjhunu. She alleges that Rakesh Kaswan doesn't respect women & doesn't allow her to speak in the Panchayat meetings. (26.06.19) pic.twitter.com/AOIJ0npU5h

— ANI (@ANI) June 27, 2019
Hansa, while speaking to reporters, said Kaswan does not allow her to speak in the panchayat meeting and "does not respect woman".
Preliminary reports could not confirm whether Kaswan has registered a complaint against Hansa for assaulting him. The Panchayat Samiti, however, could initiate action against her for indiscipline.