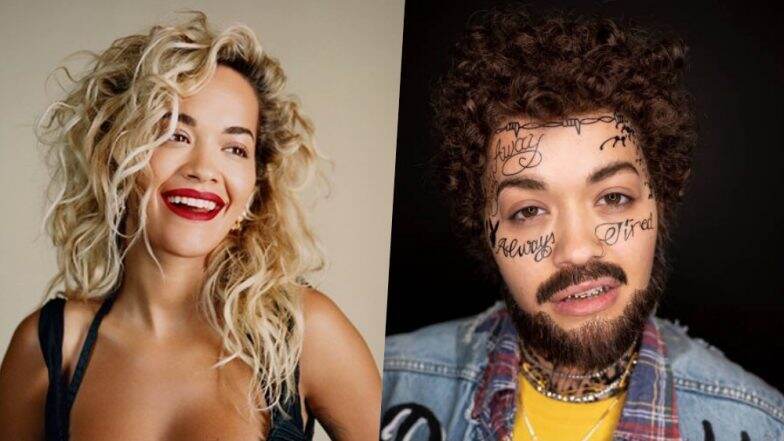 Halloween parties are meant to be crazy, right? And guess who unleashed all her craziness at a recently held pre-Halloween concert? Rita Ora, clearly did, as she pulled off being Post Malone so well. Celebrity bashes see their best fashion on display but celeb Halloween parties only get crazier. Rita Ora had her costume well sorted as she chose to imitate her favourite American rapper Post Malone, and boy she was unrecognisable! Not leaving anything of the look ignored, she pulled off his scraggly hair to 'always tired' facial tattoos with such precision. The internet is in love with Ora's style statement.
The event was a pre-Halloween concert performance at London's KISS Haunted House Party Rita well all out to resemble her favourite rapper. It was uncanny to see her match the rapper to the tee. She matched the wardrobe, tattoos and also the facial hair. She posted her picture on the Instagram account and wrote how she much is in awe of Post Malone. Rita Ora Flashes For Her Best Friend Because "F*$k It" - View Her Topless Pics. 
Look at Rita Ora's Picture Dressed as Post Malone for Halloween Bash
Isn't she unrecognisable? She has mastered his look so well! Fans loved her look and commented the same. Fans were not just shocked to see the transformation but also praised her for pulling it off so flawlessly. Rita also gave a glimpse of the performance at the party last night.
Watch Video of Rita Ora Singing at the pre-Halloween bash Dressed as Post Malone
View this post on Instagram
She mentioned in her caption as well that her fans did not recognise her. Fans have declared her as the winner already for this year's Halloween costumes and we too quiet agree. Rita seemed to be loving her look too much as she has uploaded even more close up photos of her Post Malone look.
Close-up of Rita Ora's Post Malone Look
View this post on Instagram
She wishes Happy Halloween to the American rapper and we are sure he too would be surprised to see Ora imitate him so well. What did you think of Rita Ora's costume? With Rita taking away major attention already, other celebs need to clearly up their ante for Halloween dressing this year.