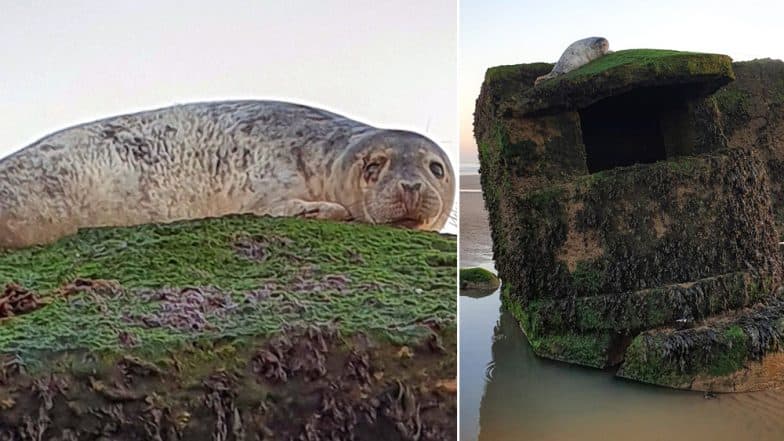 A grey seal was rescued after it got stranded on top of a Second World War pillbox at Fraisthorpe Beach in the East Riding of Yorkshire. It had injured its eye and got stranded on top of the 10 feet-long structure. Passers-by who spotted the animal alerted the RSPCA who rescued it. They also wrote on the sand 'Be aware of the seal' next to the pillbox where it was stuck.
Independent quoted Leanne Honess-Heather, an RSPCA animal collection officer as saying, "The poor seal was clearly distressed and we could see he had injured his eye. Because he had been stuck up there for 24 hours, and had been exposed to the strong sun throughout the heat of the day, he was very dehydrated." Ms Honess said that the rescue was a bit difficult as the pillbox is generally underwater high tide. "The light was fading fast and we didn't have much time. We knew we had to get him down quickly," she said. Seal Spotted With Eel Hanging Out of Its Nose! Scientists Say 'That's Rare!'
Check out pictures of the adorable seal:
This adorable fellow, a grey seal, had to be rescued after getting himself into an awkward spot - on top of a 10ft-high WWII pillbox on Yorkshire's Fraisthorpe Beach. Thankfully, @RSPCA_official officers were on hand to get him down, after he'd been stuck there more than a day. pic.twitter.com/WyeGHgx5py

— Henry Clare (@HenryClarePA) March 1, 2019
Along with RSPCA deputy chief inspector Claire Mitchell, she first shifted it to a net. Officers then together kept it on the sand. The male seal was thereafter taken to Scarborough Sea Life Centre and treated for dehydration and eye injury. Officer Leanne added saying, "The sheer sides and height of the pillbox made the rescue quite a challenge."
Ms Honess-Heather and RSPCA inspector Claire Mitchell "managed to manoeuvre him into a net and, supporting his weight between us, we managed to carefully lower him... Luckily, we were able to get him down safely."