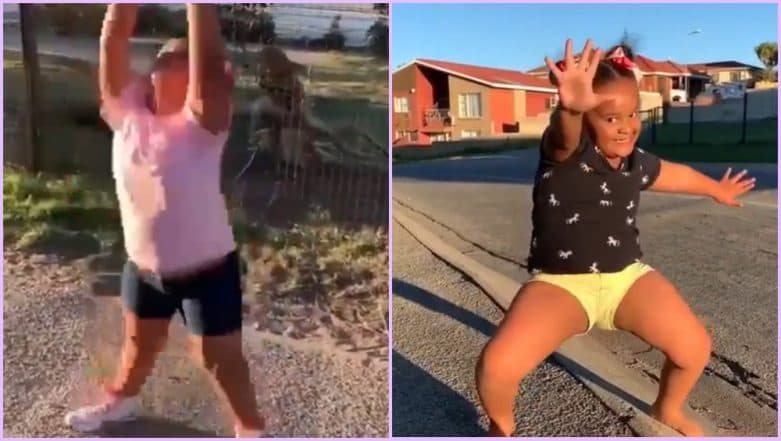 Internet is the best place and it is the superbly adorable kids, who make it one. With their cutest expression, they continue to win everyone's smile on social media. Now, it is Ivanah Campbell, a 6-year-old girl, from South Africa, who is making waves on the internet. And it is not only her adorable appearance, but super cool moves on energetic songs that will take away all your mid-week blues. The viral video has even reached to Hollywood, Chris Evans and Will Smith to name a few. Everyone is gushing over Ivanah's awesome dancing skill. Trending Topics, Viral Videos & Funny Memes of The Day. 
According to media reports, Ivanah is from Port Elizabeth, South Africa and surely she is a superb dancer. After American singer, Lizzo shared a video of her performance on Twitter, the little girl became an internet sensation. In that video, the six-year-old is donned in a pink tee and shorts, dancing to Lizzo's song Juice. 'Booty Slapping Championship' Takes Over Russia after the 'Successful' Face Slapping Challenge in Siberian Power Show 2019. 
Watch Ivanah's Awesome Dance Video
Rare footage of me as a child 💃🏾 pic.twitter.com/ArnB5PVmc5

— |L I Z Z O| (@lizzo) June 7, 2019
Will Smith reposted one of Ivanah's video, which his wife Jada Pinkett-Smith has shared on her Instagram.
On top of it, Marvel actor, Chris Evans, also shared the video, captioning, "This kid is cooler than I can ever hope to be."
This kid is cooler than I could ever hope to be. https://t.co/ZsDvdBxKts

— Chris Evans (@ChrisEvans) June 8, 2019
Ivanah's videos have garnered millions of views and we cannot stop admiring her. Ivanah also has an account on Instagram that is managed by her aunt and she has over 1 lakh followers. If her energetic moves does not brighten up your day, we don't know what will.