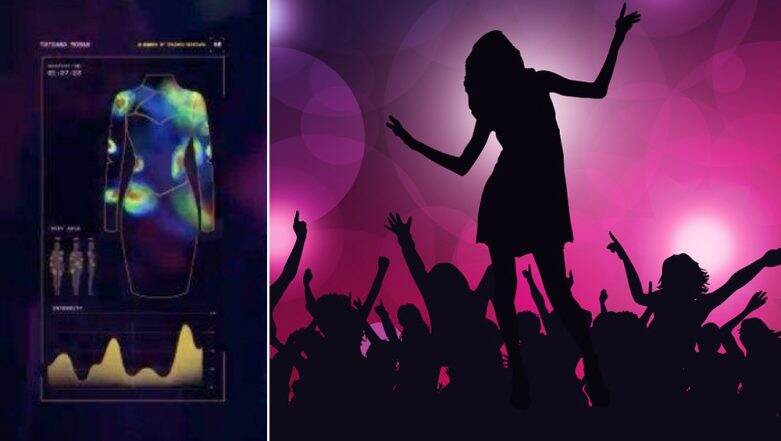 Getting groped or awkwardly brushed past by men in public places is a commonly faced problem by women. Almost every woman would agree to have faced such touches at least once. To calculate the extent of these groping instances, a 'smart dress' is prepared which records every single touch and the findings are scary! A glittery shiny dress with powerful sensors was created to notice the cases of sexual assault. The experiment was carried out in Brazil and the video footage of the same was also revealed. Georgia Waitress Hits Pervert Who Groped Her at Restaurant, Gets Him Arrested (Watch Video).
The smart dress was created in a partnership between Ogilvy Sao and Paulo the beverage company Schweppes. Three women wore the shimmery outfit and attended a party night revealing the dangers of public touching. And the findings were shocking, as they experienced sexual assaulting throughout the night, almost 40 times in an hour! Swedish Reporter Groped & Kissed Live on Television During 2018 FIFA World Cup Coverage, Watch Video. 
Check Out the Tweet About the Results of the Smart Dress
3 women wore this 'smart dress' to a club to record how many times they were touched without their consent. The grand total: 157 touches pic.twitter.com/dX90WNTv2j

— NowThis (@nowthisnews) December 1, 2018
Every time a woman was touched, a signal was sent through a WiFi platform. In about 4 hours, the women were touched 157 times. Breaking it down further, that comes to 40 times in an hour. A video from the night was also revealed, which depicts the sad reality faced by the women today. It clearly shows the way women are inappropriately touched by men in nightclubs.
Check Video of The Smart Dress 
Title: The Dress for Respect

Client: Schweppes

Office: @OgilvyBrasil

See more design work here: https://t.co/plNvU4NFAw#ClientWork pic.twitter.com/8QRDU960uh

— Ogilvy (@Ogilvy) November 28, 2018
Soon after, women on Twitter expressed their rage at the situation and also the need for wearing the smart dress. The campaign did not stop there. The makers showed the shocking video to several men to see the situation that takes place so commonly everywhere. Some of the men too expressed shocked seeing the situation, terming it utterly ridiculous. But that is how common public groping has been for the women since long. It is a thing women have to deal with regularly, while men do not realise how invasive it is for every woman's being. The results are quite saddening.