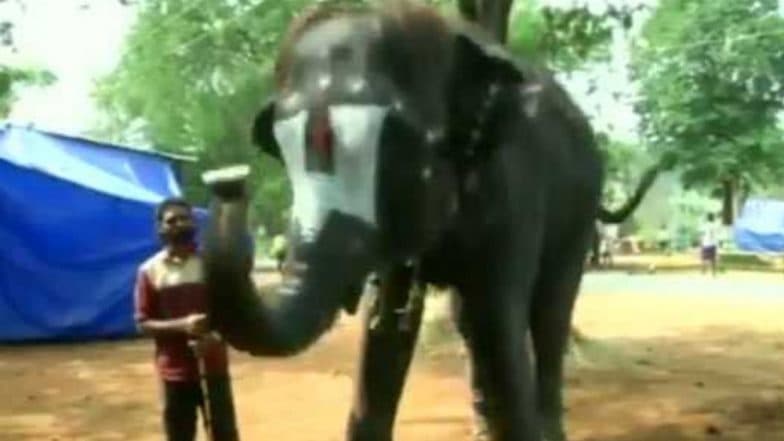 Video of an elephant playing mouth organ is going viral on social media. The clip shows 'Lakshmi', the elephant being handed over a mouth organ that it accepts with its trunk. She then plays the musical instrument effortlessly as her mahout Balan of the Erattai Thirupathy Temple stands next to her. Lakshmi sways as if she is enjoying the music she is playing.
The elephant is currently at Temple Elephant Rejuvenation Camp in Coimbatore district of Tamil Nadu. She recently impressed visitors at the camp with her performance. It is an exclusive rejuvenation camp for temple elephants where they are given medicinal baths and nutritious food. The camp was started in 2003 by former Chief Minister of Tamil Nadu, Jayalalithaa. Baby Elephant Nudging Man to Play With It Will Hit You Right In The Feels (Watch Video)
Talking about Lakhshmi, Balan told ANI, "She can play the mouth organ. It was very hard to train her to play the organ and she initially broke five instruments. Gradually she began to understand what I say and now my Lakshmi can play for 15 minutes without stopping in our temple."  Previously video of an elephant enjoying a piano being played by a man had gone viral on social media.
Watch the video here:
At the 48-day camp, the elephants are treated in a royal way. From nutritious food, medicines, shower, and brisk walks, the big animals do a number of things there. Elephants from different temples are brought to this day every year during this time. Three years ago, 30 elephants took part in the rejuvenation camp. In the past too, videos of elephants playing orchestra in Thailand had gone viral. The big animals being trained to play enormous instruments with mallets in their trunks have often amused people.