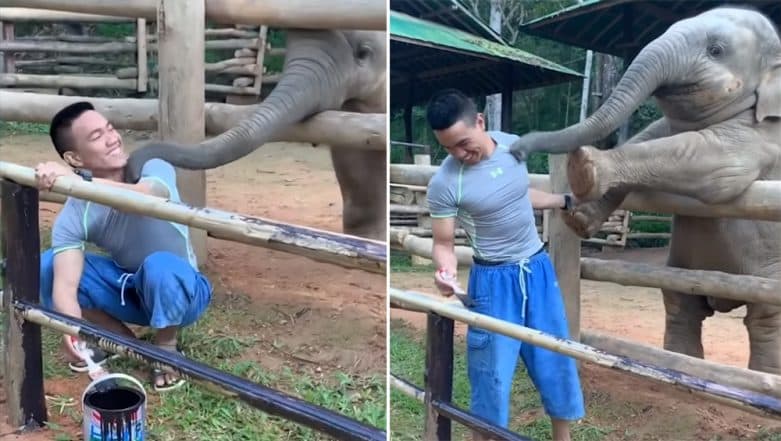 This video of a baby elephant inviting a human to play with it is just the perfect start to your day. They play with humans as if we belong to their same clan. An adorable video going viral on social media shows a young man painting a fence when a baby elephant nudges him. The man looks back and smiles at the animal and continues with his work.
But the elephant is in no mood to let go of him and continues to usher him to play with him. While the man thinks of going back to his work, the elephants try to cross the fence. The utterly cute video has been going massively viral on the internet with social media users going awww. Mother Elephant Rescues Her Calf Out of 20-feet-deep Pit Before Helping Herself, Touching Video Goes Viral.
Watch the video here:
According to reports, the elephant and the caretaker know each other and are friends. The one-year-old calf lives at a camp's nursery in Thailand. The baby elephant lives with other older elephants at Mae-Sa Elephant Camp, Chiang Mai in Pattaya. The video which was initially posted on Facebook by Khunseuk Danz has gone massively viral and continues to be shared across social media platforms. World Elephant Day 2018: Everything You Need to Know About the Importance of this Day.
Thailand is officially known as the national animal of Thailand. Elephant tourism is quite popular in Thailand however animal rights activists have been against using elephants rigorously for tourism. Reportedly there were multiple reports and campaigns urging tourists to not ride on elephants in Thailand citing the abuse these big animals often have to go through.