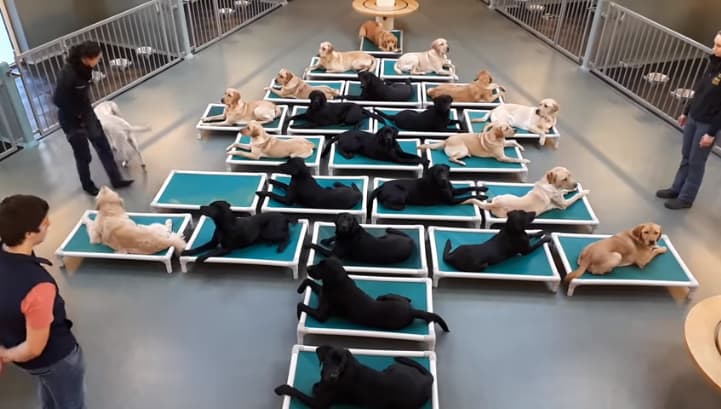 Christmas has almost arrived and people are in festivity mood. Internet users have taken to social media platforms expressing their excitement and plans for the upcoming festival. Preparations are in full swing in most countries, from putting up the Christmas tree to set up the crib and decorations, various things are under process. However, a unique Christmas tree has left the internet bemused. So the latest addition to the unique Xmas preparations is a dog-adorned Christmas tree by Royal Dutch Guide Dog Foundation. Yes, someone just decorated their tree with canines! Dog Gives Birth to 21 Puppies Naturally, May Set New World Record (Watch Video)
The video of the Christmas dog tree was shared bu a YouTube user. Sharing the video, the user wrote, "It takes some self-control of our handsome dog heroes (ok, and a lot of cookies) but then you also have this beautiful cuddly living Christmas tree." Most of them are either guide dogs or those undergoing training and it seems they are all pretty well trained. Narwhal, the 'Unicorn Puppy' With Tail on His Forehead Adopted by Missouri Organisation That Rescued Him; See Adorable Pics and Videos.
Christmas Tree With Dogs:
As the video went viral, dog lovers on the internet couldn't hold back their excitement. People commented that it was a great idea and should keep doing it often. The light coloured dogs were seated at the edges of the tree while the darker inmates were seated at the centre of it. The video shows the members of the foundation giving special treats to ensure that the dogs remain on their respective seats. In between one or two of them can be seen trying to move around, but are eventually lured by treats and brought back to their seats.