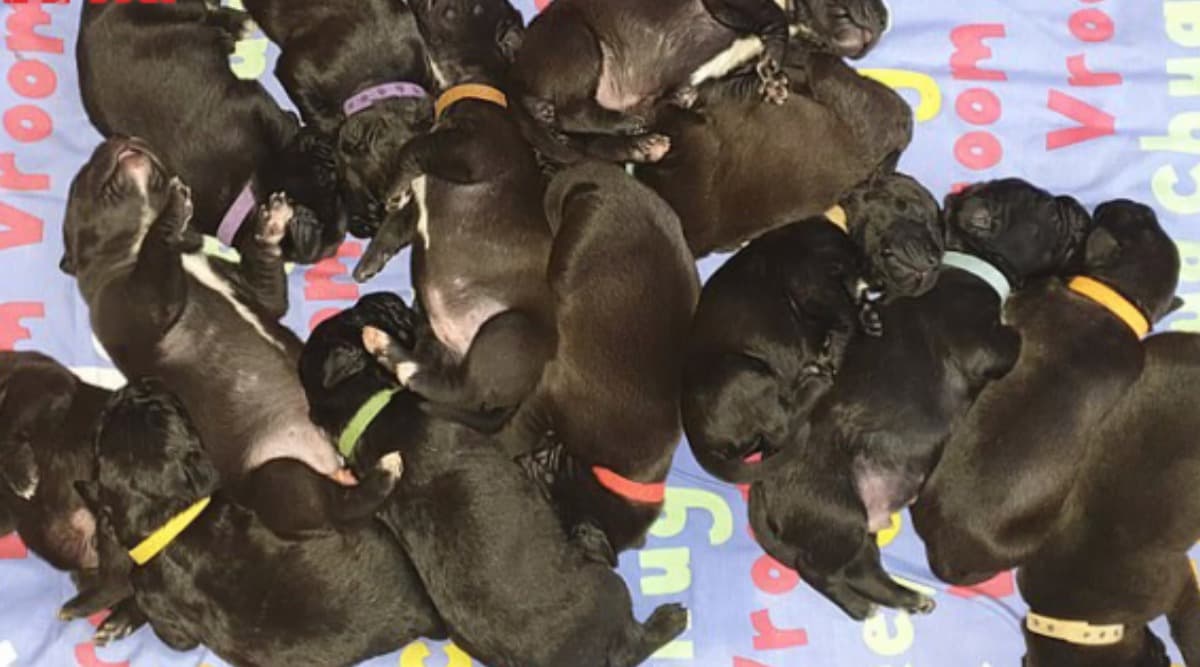 A British dog has set a new world record after giving birth to a litter of 21 puppies. Joanne Hine's dog Mary Jane called as MJ is a crossbreed between Great Dane and American bulldog. When MJ was expecting Joanne was told that her pet would be expecting six to eight puppies. But as the due date neared, an examination showed that the MJ was expecting more babies than expected. Joanne was shocked to learn that her pet had given birth to 21 puppies. Woman Finds Her Cute Pet Puppy of a Year is Originally a Fox, Sends it to a Zoo for Proper Care.
On November 20, MJ gave birth to 21 puppies, just three short of the 2004 Guinness World Records for the largest litter held by Neapolitan mastiff from Cambridgeshire named Tia. However, Tia had needed a Caesarean section to deliver the 24 puppies of which 20 survived. But MJ's puppies were born naturally creating a new record. Watch Funny Videos of Cute Puppies to Brighten Up Your Weekend.
Watch The Video Below:
Talking about her pet, Joanne Hine was quoted as saying, "When the vets told me it would probably be more after they'd said she would have just six to eight I said 'no way! I'm so proud of her. MJ did it all on her own Annie and Ruth of Jane Callow Veterinary Practice by her side the whole time." However, six of MJ's puppies were stillborn and another one died soon after the birth. Most of the dogs have both qualities of their mother and father. They have MJ's black and white and their father's face. To ensure that the babies are well taken care of, Joanne has slept in the kitchen next to crib where the puppies are kept. Once they are old enough, two of the puppies will be sent to a family in Rotherham in Yorks.