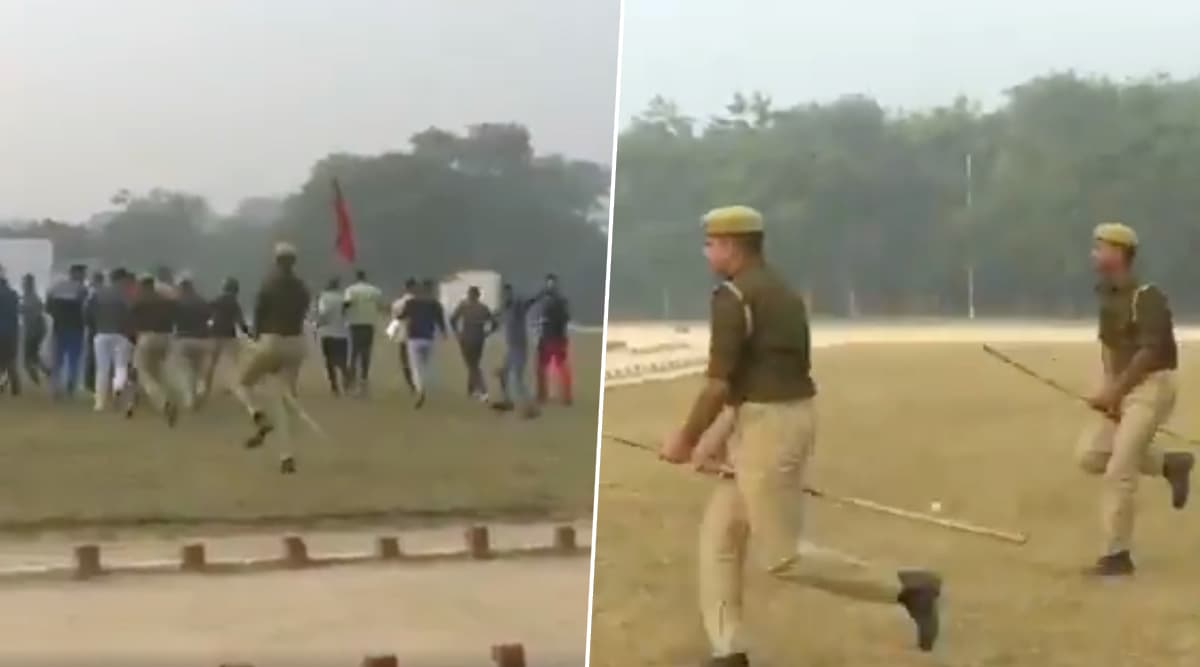 Ferozabad, November 13: In a bizarre incident, Uttar Pradesh police personnel rode imaginary horses during a mock drill which was held on November 8, a day before the Ayodhya Verdict. The video of the incident went viral on social media. Netizens are trolling the police for the theatrics they performed during the mock drill. One of the twitter users compared the UP cops with book character Harry Potter flying on a broomstick. In the video, police personnel were seen galloping like horses with a baton held between their legs. Monkey Gives Head Massage to UP Police Inspector While He Works, Funny Video Goes Viral.
The activity was part of the mock drill which was held to control the riot-like situation in the state in the wake of the Supreme Court's verdict in communally sensitive Ayodhya land dispute case. The drill took part in Ferozabad district of the state. The video was first shared by Samajwadi Party leader Vikas Yadav on the social media .
Video of the Drill:
Uttar Pradesh Police's Tweet:
बल्वा ड्रिल अभ्यास के दौरान दंगाईयों से निपटने हेतु विभिन्न पुलिस पार्टियों का गठन किया जाता है जिसमें नम्बर तीन पर घुडसवार पुलिस की कार्यवाही की जाती है। जनपद में घुडसवार पुलिस न होंने के कारण घुडसवार पुलिस कार्यवाही का रिक्रूट आरक्षियों द्वारा प्रतीकात्मक अभ्यास कराया गया है pic.twitter.com/xGfSlJJtwq

— FIROZABAD POLICE (@firozabadpolice) November 8, 2019
Twitter Reactions on The Video:
Comparison with Harry Potter:
— Akansha singh chauhan🇮🇳 (@Akansha150298) November 8, 2019
'Lakdi ki Kaathi, Kaathi Pe Ghoda':
Lakdi ki kathi, kathi pe ghoda...https://t.co/x2c2pxKbat

— GarvSeSecular فخریہ سیکولر (@GarvSeSecular) November 8, 2019
It is called Improvisation Genius:
It's called improvisation genius. If u work on some useful work, u will know. Give them a break.

— Latekitty (@Latekitty1) November 8, 2019
"The mock drill was related to the crowd management, since we did not have horses, we symbolically conducted the exercise where the cops presumed that they were on a horseback," reported IANS quoting Inspector Ram Ikshah as saying. The police had also invited the electronic media to cover the incident.
Last year also, UP cop hit headlines after a video went viral on social media showing the policeman involved in an encounter trying to mimic the sound of gunshots after the cop's revolver reportedly stopped working as the cartridges got stuck.  According to reports, a criminal was later arrested after being shot at in the leg