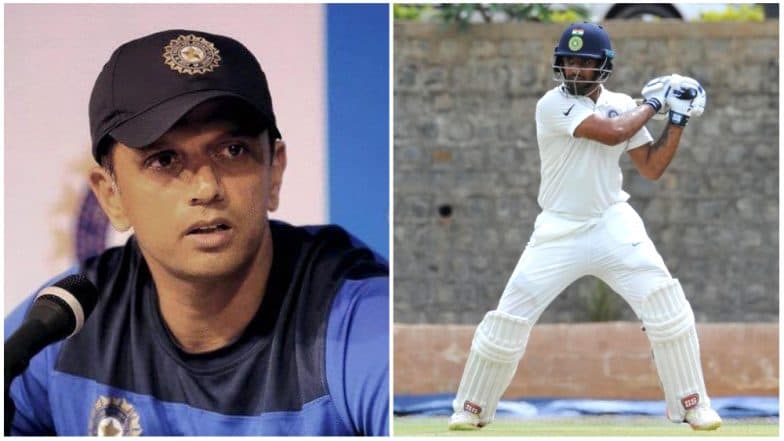 Hanuma Vihari, who along with Ravindra Jadeja, helped India rescue from nearly falling to another shambolic performance in the ongoing fifth Test match, against England. The young debutant played the innings of his life, where he helped India post a par-score in the first innings. Hanuma Vihari, however, credited his success to none other than Rahul Dravid!
After the play on day 3 ended, Vihari said, "I called him the day before I made my debut. He spoke to me for a couple of minutes, and I thought it eased my nerves a little bit. He is a legend of the game; and his inputs especially in the batting department (helped me)."
Vihari was playing under the coaching of former Indian captain, Rahul Dravid, in India A team, when the Men in Blue (Jr.) were on their tour to England too. Vihari, who played a crucial role in India's A win over England A in the ODI tournament, was all praise for his former coach.
Vihari said, "He just told me that 'you have the skill set; you have the mindset and the temperament, go out there and enjoy yourself...I want to give him a lot of credit because my journey with India A was significant for me to come here, his inputs made me a better player."
After the Indian batting line-up faltered in their first innings, it was Vihari who stemmed the flow of wickets during the play. Initially with skipper Virat Kohli, and later with Ravindra Jadeja, Vihari helped India post a respectable score on the scoreboard.
Vihari played in the fifth and final Test in place of Hardik Pandya. The decision seemed to be a dicey one, early on. However, as Vihari scored 56 runs, and later picked three wickets, the decision proved to be a right one! Stay tuned with us for all the latest updates about India vs England Test Series 2018!