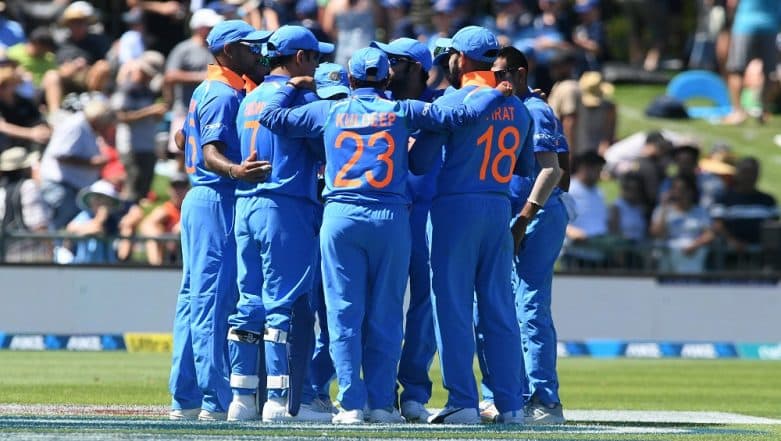 With the 2019 World Cup in England now just months away, all the teams around the world have a rough idea about their playing combination. Having played years of competitive cricket post the last World Cup in 2015 in Australia, the teams have tried out different permutation and the combination of players depending on the opponents and playing conditions. For a cricketer representing your country at the World Cup is a special feeling and one that they want cannot afford to miss out on. The list of probable 30 cricketers for the show piece event will start coming out soon and we decided who all can likely make this grand list. ICC Cricket World Cup 2019 Schedule in PDF: Ticket Prices, Dates, Venue Details & Timetable Available for Download Online.
Let us look at the Indian cricketers who are likely to make it to the World Cup probable. Indian Cricket Team Schedule in 2019: List of Series to be Played by Team India Including ICC Cricket World Cup.
Virat Kohli: Indian skipper Virat Kohli is without a shadow of a doubt the World's best batsman in all forms of the game. He has peaked his game to become one of the modern day greats and if he continues with the same, India can surely lift the Cup in England. Captaincy is one area where Virat has learnt a lot with each passing game and India look a confident outfit under his regime.
Rohit Sharma: Indian vice-captain Rohit Sharma is a limited overs cricket specialist with his brilliant batting at the top takes much of the pressure away from the middle order. With close to 8000 ODI runs, Sharma will have to battle hard in tough conditions in England when there is an early swing with the new ball for the bowlers.
Shikhar Dhawan: Left handed Shikhar Dhawan recently became the second fastest Indian batsman to score 5000 ODI runs. Consistency is a factor that can haunt Shikhar Dhawan but there when on song there are not many players better than the Delhi lad who can play fast aggressive cricket. He will have to work on the technique though in order to counter the bowlers.
MS Dhoni: Mahendra Singh Dhoni the wicket-keeper never had a question mark raised against him in making it to the team but the batsman Dhoni was struggling in 2018. But a new year has brought in a fresh MSD who also picked up player of the series award in Australia. He can be accommodated higher up in the battling line-up to play the anchor role if things are not going well for India.
Dinesh Karthik: The Chennai batsman has become a regular in the Indian team in the past one and a half years or so and has put in some good showing. He likes scoreboard pressure and his ability to score runs quickly will come in handy when India are chasing par scores. With Karthik without the gloves on, his fielding is another asset for the Men in Blues.
Ajinkya Rahane: Ajinkya Rahane may have not been part of the Indian limited overs squad for quite some time now but some brilliant batting in domestic cricket means the Mumbai batsman remains part of the World Cup plan. He has been averaging 74.62 in List A cricket scoring a mammoth 597 runs in 11 innings which has added to his credentials.
Kedar Jadhav: If Kedar Jadhav keeps his fitness troubles away, he is likely to play every game for India at the World Cup. He brings a lot to this Indian team with both bat and bowl and Virat Kohli places a lot of trust in him. He is particularly good while chasing and his match winning stand with Mahendra Singh Dhoni in a recent ODI win in Australia is a proof of his calm batting under pressure.  India Squad for ICC Cricket World Cup 2019: Mohammad Kaif Picks Players He Thinks Will Be Part of the Virat Kohli-Led Team.
Hardik Pandya: There were many who had written Hardik Pandya off after his recent troubles post the Koffee with Karan controversy. The maverick all-rounder though made a swift comeback once his suspension got lifted. He played some good innings in New Zealand although his bowling remains a work in progress.
Mohammed Shami: Mohammad Shami is a wicket-taking option for India and despite competition for places, he is a good addition to the team. In the swinging conditions in England where the ball does a bit, Shami can be lethal. He is an important member of the Indian test squad but has played just 56 ODI in six years.
Yuzvendra Chahal: The leg spinner has been a regular member of the Indian team in both ODI and T20 cricket. Virat Kohli has often opted for Chahal when in need of a wicket and the RCB bowler has not disappointed. An average of 23 for a spinner in ODI speaks volumes about his talent and he will likely get a lot of opportunity in England.
Kuldeep Yadav: The left arm Chinaman has been a success story of Indian cricket for the past two years or so with some terrific performances in the past three years or so. He has picked up 78 ODI wickets at an average of just 20. Kuldeep is very difficult to get away in the middle overs and India can utilise him as a wicket-taking option in the World Cup.
Krunal Pandya: The Mumbai Indian all-rounder has made it to the Indian T20 squad where he has had some decent outings coupled with a few below par performances. His transition to the ODI squad is not yet complete and although he may not make it to the World Cup squad, he will be part of the 30-man probable.
KL Rahul: After getting into trouble along with Hardik Pandya with their entire KWK controversy, K L Rahul made it to the India A team to get a new lease of life. His rough patch in Australia was the cause of concern but he can make it to the Indian team as a back up opener considering he is a gifted player who can win you games when on song.
Umesh Yadav: Umesh Yadav has been around for the past decade or so with the Indian team yet only managed 75 ODI games. The veteran bowler still packs a punch though with his raw pace that can knock the best batsman out. He has done well in domestic cricket in recent past and is a regular member of the Indian test team.
Bhuvneshwar Kumar: Bhuvi may not have won the trust of Virat Kohli when it comes to red ball cricket, but when it comes to the white ball, the UP bowler will be the first man in the team sheet. His impeccable line and length in addition to his death bowling makes him a strong candidate to feature in the playing eleven in the World Cup.
Jasprit Bumrah: Jasprit Bumrah is India's best bowler and one of the best in the world be it any form of cricket. He averages in close to 20 in Tests, ODI's and T20 cricket which is a testament to his brilliance. When Bumrah is on song there are a few players who can survive his ferocious spells. 2019 could be the years where Bumrah can win his first ICC trophy with his country.
Rishabh Pant: Rishabh Pant has made the test spot his own ever since Wriddhiman Shah's injury opened the gates of the Indian team for the young wicket keeper batsman. Although he has to improve a lot in terms of his keeping he can be a cover for MS Dhoni in England.
Ravindra Jadeja: Ravindra Jadeja has gone down the pecking order with the emergence of Yazuvendra Chahal and Kuldeep Yadav but the Gujrat all-rounder still has plenty to offer to the team. He is a dynamic fielder and a useful batsman coming lower down the order. If he can work a bit on his bowling skills, there is no reason why he can't make it to the World Cup squad.
Ravichandran Ashwin: Ashwin along with Jadeja no longer have the trust of Indian management when it comes to the ODI but a classic spinner like Ravi Ashwin can never be counted out. If ever there is a situation where his services are required, Ashwin can be called upon.
Manish Pandey: Manish Pandey can count himself unlucky with the way he was dropped from the Indian team toward the end of 2018 when he was getting in a decent run with the ODI team. He has gone back to the basics which is domestic cricket to carve out an opening for himself in the World Cup squad. ICC Cricket World Cup 2019 Warm-Up Matches Schedule: Check India's Fixture Dates Against New Zealand and Bangladesh.
Khaleel Ahmed: 21 year old Khaleel Ahmed made his debut for India in the Asian Cup when the big guns were rested. He was seen recently in the T20 series in New Zealand and is a raw talent that needs a lot of shaping up. He will be part of probable 30 although it is highly unlikely he will travel to England.
Vijay Shankar: The all-rounder is in the scheme of things for the World Cup as confirmed by chief selector MSK Prasad but has a lot of competition with the current crop of all-rounders.
Parthiv Patel: If the selector are opting for a backup opener who has the experience and a clam head, Parthiv Patel is an apt name. He is still going strong in the Ranji Trophy for Gujrat to stake a claim for the 30 man list.
Mayank Agarwal: Mayank Agarwal looked good while playing for Indian in the test matches but he can be a quality player in shorter format as well. His good technique against the new ball means he is in the race for the backup opener role too.
Suresh Raina: There was a brief period in 2018 where it looked like Suresh Raina is back in the Indian ODI fold but that did not last very long. He is trying his best to get in the Indian setup but looks difficult for him to make the cut.
Prithvi Shaw: Currently recovering from an ankle injury, the selectors may include Prithvi in the 30-man probable list but he needs to get back to playing cricket if he is to force his way in the final squad.
Shreyas Iyer: Delhi Capitals skipper Shreyas Iyer last played an ODI game for India in South Africa last year but his recent good showing for Indian A means he has avoided going into the obscurity.
Shubman Gill: Shubman Gill has so much time on his hands that even though he may miss out on a senior team call-up for the World Cup now, he is destined to play on one of them in the coming years.
Ambati Raydu: Ambati Raydu has made sure he has utilised all the opportunities given to him in the ODI team well and is now seen a key member of the Men in Blue's middle order. He will make it to the final squad that flies to England for the 2019 World Cup.
Washington Sundar: Tamil Nadu vice-captain Washington Sundar is only 19 but has impressed everyone with his maturity and will to succeed. He is an off spinner and hence it is a huge gamble to pick him in limited overs cricket but is certainly one for the future.
This was our pick for the Indian Cricket Team 2019 World Cup probable list but do write to us if you agree or disagree with the names mentioned above.