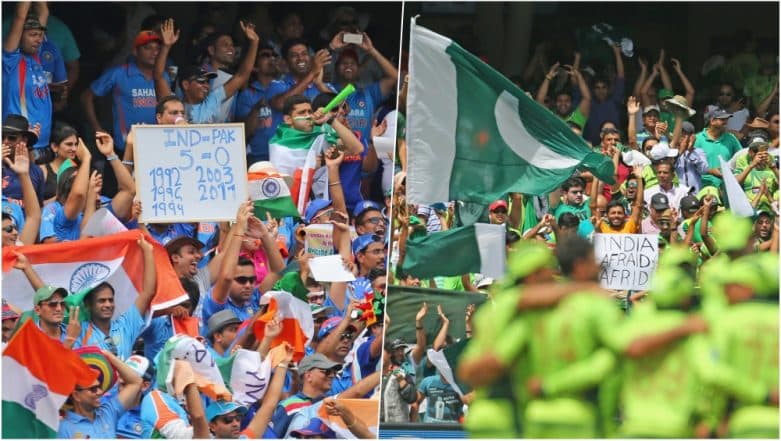 India vs Pakistan fixture on June 16 was the biggest attraction in the ICC Cricket World Cup 2019 schedule. But Pulwama attack has changed everything. India vs Pakistan tie in the coming ICC Cricket World Cup 2019 will take place or not? The big question has got everyone in a fix. While the India and Pakistan cricket team no longer participate in bilateral series due to the constant bitter political tensions, it was the ICC tournaments that were like a breath of fresh air for the fans on both sides of the border. Unfortunately, it has also taken a major hit in the aftermath of the terror attack in Pulwama that killed 40 Central Reserve Police Force (CRPF) troopers on February 14. India has pledged revenge since Jaish-e-Mohammed, a terror outfit on Pakistan soil took responsibility for the cowardly attacks. And it includes boycotting matches including India vs Pakistan, ICC Cricket World Cup 2019 fixture! Virat Kohli Opens Up About India vs Pakistan, World Cup 2019 Tie; Vows to Respect the Decision on BCCI & Government (Watch Video).
The schedule of the 2019 ICC Cricket World Cup was decided during the meeting of the of the ICC Chief Executives in Kolkata, and the fixture which historically tends to generate the maximum amount of buzz is that of arch-rivals India and Pakistan going head to head. The Asian giants were scheduled to take on each other in Old Trafford, Manchester on the 16th of June in the 10-team tournament that is expected to be a 46-day affair in England in 2019. The associate nations will no longer be playing at the World Cup after the ICC decided to clamp down on the number of participants to cut down on ineffective games that tend to make the World Cups a turgid tournament. The top 8 nations had already qualified for the World Cup, and the last two berths were occupied by the West Indies and Afghanistan, the two finalists of the recently held ICC World Cup qualifier. Pulwama Attack: BCCI Fails to Decide on Boycotting Pakistan at ICC World Cup 2019.
However, after the horrendous Pulwama attacks, the Board of Control for Cricket in India (BCCI) has urged the International Cricket Council (ICC) to urge cricketing nations to boycott countries which sponsor terrorism. Though no decision has been taken if India should play against Pakistan in the World Cup after the Kashmir suicide bombing so far. While it is yet to be seen if India vs Pakistan match takes place on its scheduled date, we look at the meetings between the two sides in the ICC World Cup tournaments and have a look at the outcomes, exciting match results. Pakistan Captain Sarfraz Ahmed Says Disappointing to See Cricket Being Targeted After Pulwama Attack.
1992 World Cup, Sydney: India won by 43 runs
The match is quite famous for Javed Miandad's mocking of wicket-keeper Kiran More in addition to all the drama it had to offer on the pitch. Chasing 217 for the win, Pakistan never looked on track for a win. Javed Miandad played at a painstakingly slow pace for his 34 virtually surrendering the match to the Indians. For India, the match also meant the emergence of a certain Sachin Tendulkar with the bat whose 54 helped India post a decent total on the board. The bowling department led by Kapil Dev, Javagal Srinath and Manoj Prabhakar were extremely efficient in the win claiming two wickets each.
1996 World Cup, Bangalore: India won by 39 runs
Just like their previous meeting in 1992, India batted first here too, and Navjot Singh Sidhu seized the quarter-final opportunity scoring a magnificent 93 and he along with Sachin Tendulkar gave India the platform to pile up the runs. Ajay Jadeja smashed a 25 ball 45 back in the day when T20 was not even a form of cricket to take his side to 287-8. He was particularly severe on Waqar Younis who gave away 40 in his last two overs.
Pakistan's reply was a solid one with openers Aamer Sohail and Saeed Anwar blasting their way to the total. Pakistan who had their overs deducted as punishment for maintaining slow over-rate looked on course for a victory till Aamer Sohail lost his mind and walked up to Venkatesh Prasad asking him to fetch the ball from the boundary on hitting him for a four. Prasad removed the left-handed batsmen with very next delivery and pandemonium ensued in the Pakistan line-up. Wickets fell in a heap as Javed Miandad played yet another struggling innings to leave the other batsmen with a lot to do. India were victorious by 39 runs and moved to the semis of the 1996 World Cup.
1999 World Cup, Manchester: India won by 47 runs
The two sides met in Manchester in 1999 with extremely raw emotions on display by both sets of fans in the backdrop of the Kargil War in Kashmir. Sachin Tendulkar played with an uncharacteristic strike rate of below 70 on his way to 45 where he never looked comfortable. Rahul Dravid and M Azharuddin too were below their aggressive best as India huffed and puffed on its way to 227- a below-par score by all means. But Javagal Srinath and Venkatesh Prasad had other ideas as they shared eight wickets between them to dismantle their neighbours at 180.
2003 World Cup, Centurion: India won by six wickets
The match is probably known for Sachin Tendulkar's masterclass more than anything else as his gem of an innings of 98 saw his side chase down a score of 274. Pakistan, buoyed by the century of veteran Saeed Anwar definitely had their noses in front going into the break, but master blaster Sachin Tendulkar played one of the most beautiful innings of his illustrious career to help his side register victory. Battling severe cramps and hot condition, Tendulkar played a wide array of shots against a bowling lineup consisting of Shoaib Akhtar, Wasim Akram and Waqar Younis. Although he fell short of his 100, the damage had already been done by the little master.
Rahul Dravid and Yuvraj Singh took over from where Sachin left and took India home with ease. The innings of Sachin is still widely regarded as one of the best World Cup innings of all time.
2011 World Cup, Mohali: India won by 29 runs
India and Pakistan meeting for a place in the World Cup final is the pinnacle of the cricketing extravaganza, and this was on display during the 2011 World Cup in Mohali. Both teams were coming into the match in fine form which was expected in sub-continental conditions. India decided to bat first on a seemingly flat track and got off to a flying start with Sehwag and Sachin in their attacking best. Sachin Tendulkar was given plenty of reprieves as he saw his catch dropped a staggering four times during his innings of 85. Suresh Raina played a good cameo of 36 in the end after India lost a flurry of wickets in the middle overs.
Chasing 261, Pakistan got off to a good start with the openers contributing 44 runs for the opening stand. But the pressure applied by the Indian bowlers during the middle periods where they did not give away any freebies to the Pakistani batsmen started to bear dividend. With Pakistan losing Shahid Afridi and Umar Akmal, the responsibility to steer their side home fell on skipper Misbah-Ul-Haq, but he consumed way too many deliveries in the process. India defeated arch-rivals Pakistan by 29 runs to set up a summit clash against Sri Lanka in Mumbai.
2015 World Cup, Adelaide: India won by 76 runs
The match was a prime example of the gulf in class between the two sides during the 2015 season. India on winning the toss had no hesitation to bat first, and Virat Kohli was magical with the bat as he brought up his 22nd ODI century, and he was assisted equally well by Suresh Raina and Shikhar Dhawan who scored fifties each. India's tally of 300-7 even when Pakistan had done well in the last five overs taking five wickets was way too daunting.
The Men in Green decided to focus more on preserving wickets rather than scoring freely and at one stage were 102-2. But the asking rate kept on increasing, and the Pakistan batsmen were not able to catch up with it losing wickets in abundance at the end. Mohammed Shami, in particular, proved too hot to handle claiming four wickets as India edged out Pakistan by 76 runs.
These matches tell us about the dominance India has had over Pakistan in the ICC 50 over World Cups, but as we saw in the Champions Trophy final in 2017, Pakistan are well capable of changing these records. It does make up for a fairly even contest, and we hope the two sides live up to the billing, provided they have an encounter in the first place.