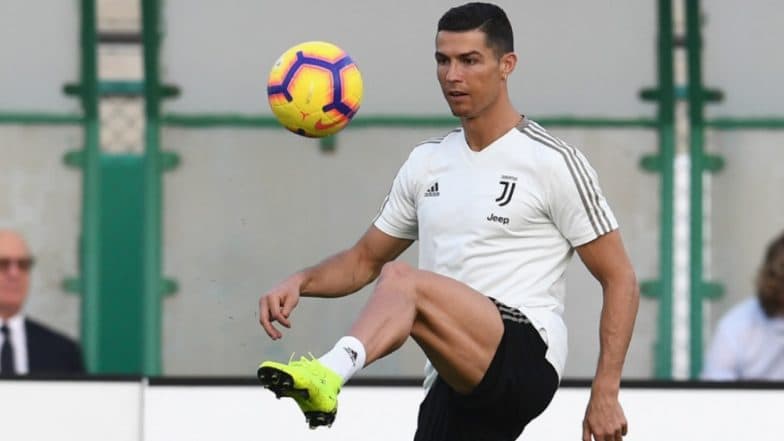 Out with a muscle injury at Juventus, Cristiano Ronaldo seems to have found a "special training partner" as he works his way back to fitness ahead of the 2019-20 Serie A season. Ronaldo sat out of his side's last friendly game against Triestina with a muscle problem and is fighting to recover on time for Serie A opener on August 24, 2019 (Saturday). Defending champions Juventus will face Parma in the first match of the new domestic league season. The Portuguese star was seen at the Juventus training ground alongside his son. Cristiano Ronaldo of Iraq! Biwar Abdullah's Uncanny Resemblance to Juventus Football Star Makes Him a Local Celebrity - Watch Video.
"Working hard on my recovery with a special training partner!!" Ronaldo captioned an Instagram video where he and his son can be seen taking part in running and shooting drills. Ronaldo did not take part in Juventus' final pre-season friendly game against Serie C side Triestina on Saturday. Juventus won the game 1-0 thanks to a Paulo Dybala goal. Dybala, who in the ongoing summer transfer window came close to joining English Premier League teams Manchester United and Tottenham Hotspur, was also guilty of missing a penalty. Cristiano Rolando Admits Paying Rape Accuser Kathryn Mayorga 'Hush Money'! Read How Much Juventus Star Paid to Buy Her Silence Years Ago.
Cristiano Ronaldo Trains With Special Training Partner
Meanwhile, Ronaldo junior also looks to be following his father's footsteps and become a footballer. The nine-year-old is already part of Juventus' youth teams and has been recorded dominating the opposition with his runs and skills. Ronaldo often visits Juventus' Under-9 matches and uploads video clips of his son playing.
Ronaldo Watches Son Play
— Cristiano Ronaldo (@Cristiano) October 14, 2018
Meanwhile, Juventus newcomers Aaron Ramsey, Adrien Rabiot and Matthijs De Ligt were also involved in the friendly game. Ramsey and Rabiot came on free transfers from Arsenal and Paris Saint-Germain respectively, while De Ligt was signed for a record €75m from Ajax FC.