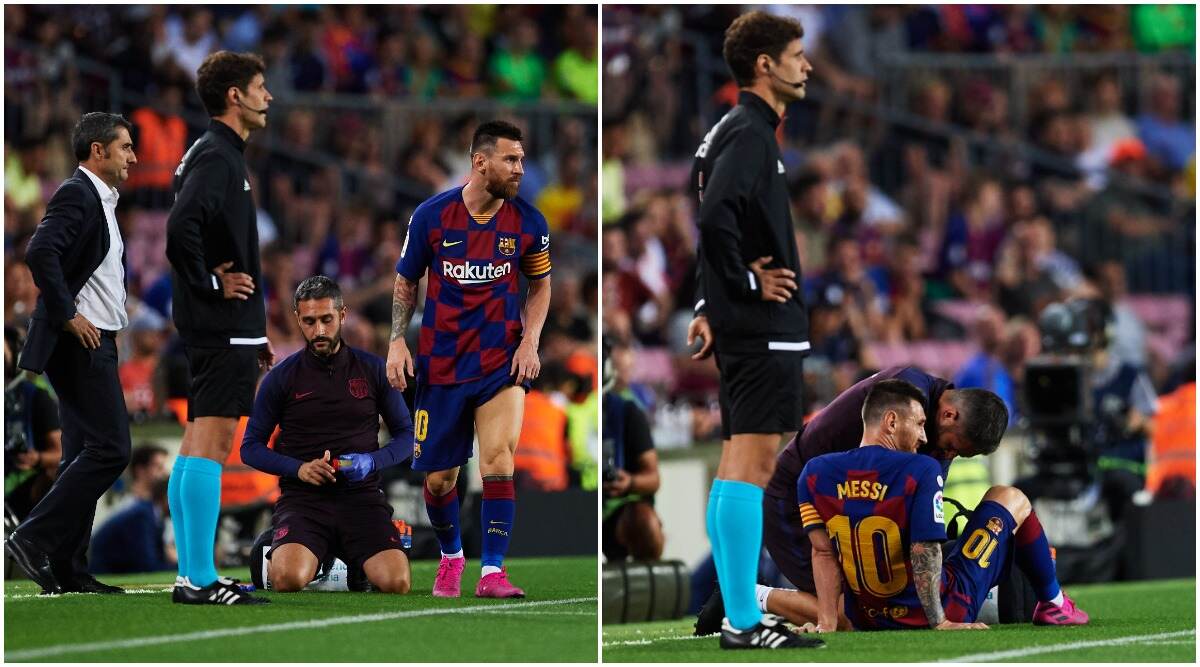 Barcelona face uncertainty over losing star player Lionel Messi to another long-term injury after the Argentine had to be withdrawn at half-time during the La Liga club's 2-1 victory over Villarreal late on Tuesday. Barca manager Ernesto Valverde confirmed that the 32-year-old will undergo a scan with the club's medical team on Wednesday. The Blaugrana club have endured a disappointing start to their league title defence without the talismanic forward. But an injury in his first start had left the league champions in fear of losing Messi again –for a second time in two months – as they anxiously await the test results. Lionel Messi Injured as Barcelona Register 2-1 Victory Over Villarreal in La Liga 2019 Match.
Messi, who made his first start for Blaugrana club this season, was taken off as a precaution after he suffered a muscle pull mid-way through the first half. Messi, who was bestowed with FIFA's Best Men's Player award for the 2018/19 season, played his second game following a second-half stint in the Champions League against Borussia Dortmund. But his first start for the Catalan club this season was cut short at half-time with Valverde refusing to take any chances with his captain.
Leo Messi Suffers Another Injury
Valverde on Leo #Messi : "It's some discomfort in the abductor and so we didn't want to risk it." pic.twitter.com/bKtHZrSC2k

— FC Barcelona (@FCBarcelona) September 24, 2019
Valverde, in his third season with Barcelona, later revealed at the post-match press conference that Messi had to be taken off because of a stress pain but it was only a precaution. "He had a small groin problem," the 55-year-old coach was quoted as saying by the Sport. "When something happens to Messi, everyone stops, not only on the field but in the stands as well," he said. "As a precaution, we have decided not to risk it. In theory, it is nothing more but we will see tomorrow how it is."
But despite the manager's 'precaution' assurance, Barca will be anxious to know what the tests reveal. The Argentine star, still waiting for test reports, is however a major doubt for Barcelona's away fixture to Getafe on Saturday and the home match against Inter Milan.
Meanwhile, the Catalan club also welcomed back Ousmane Dembele and Luis Suarez after an injury lay-off. But the while the former impressed after starting from the bench, Suarez was once again criticised for his poor display. Valverde, however, spoke in defence of his striker. "Luis has been out for a month," added Valverde. "It's hard for him to come back. We know what he is going to give us. We have to be with him. He has a wonderful scoring record in this club."