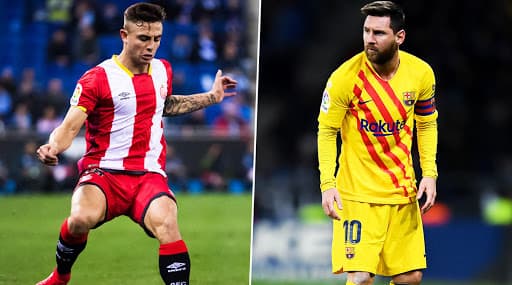 Lionel Messi is no stranger to defenders paying special attention to him on a football field. The 32-year-old's ability to turn a match on its head at any given time in the game has forced a lot of managers to man-mark the Argentine during games. Though an effective technique, it hardly works when applied on Messi as the Barcelona ace somehow finds a way to the goal. The Barcelona captain has played against some of the best defenders in world football such as Sergio Ramos, Virgil van Dijk, Leonardo Bonucci but he revealed the toughest man-marker he had to face was Girona's Pablo Maffeo. Lionel Messi Thanks Sacked Barcelona Coach Ernesto Valverde in Instagram Post, Wishes Luck for Future Endeavours.
In a recent interview with DAZN, Messi has opened about him getting used to the way players pay attention to him on the football field and the toughest man-marker he has faced until now. 'Man-marking doesn't bother me, you know that there will be tough matches and it can be strange to always have someone around you. In truth it hasn't happened to me that often. It doesn't bother me, but it is strange' the 32-year-old said. When asked about the toughest defender he has faced, Messi had a surprising answer. 'Pablo Maffeo of Girona' said the Argentine forward. Lionel Messi vs Cristiano Ronaldo: Barcelona Star Opens Up on His Rivalry With CR7.
Maffeo, currently on his third loan stint at Girona, was at Manchester City since 2015 but is currently owned by Stuttgart. The 22-year-old defender faced Messi during the 2017-18 La Liga season while playing for Girona, though his side didn't had much luck against Barcelona, Maffeo certainly made himself known to one of the greatest players of all time.