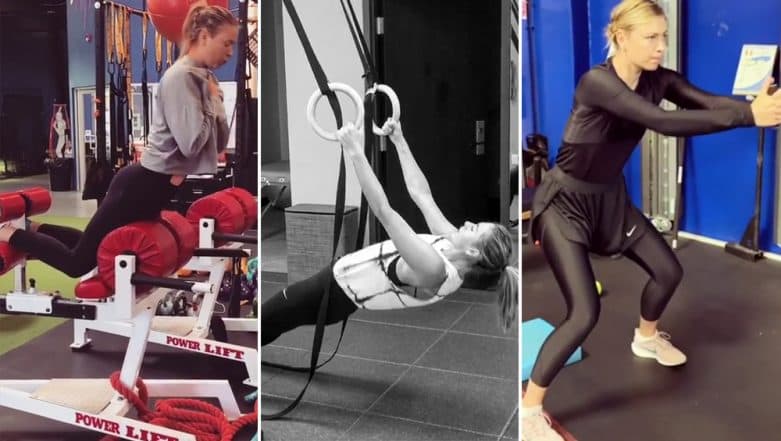 Maria Yuryevna Sharapova is a Russian professional tennis player and also a United States resident since 1994. The 5 times Grand Slam winner Sharapova turns 32 on April 19, 2019. On the occasion of her birthday, let us go through 5 workout videos of the birthday girl which gave us major fitness goals. Maria Sharapova and Ex-Boyfriend Grigor Dimitrov Make a Stylish Appearance at 2019 Vanity Fair Oscars Party (View Pics)
Maria Sharapova began competing in the Women's Tennis Association (WTA) since 2001. She has been ranked world No. 1 in singles by the WTA on five separate occasions, for a total of 21 weeks. She has also won a silver medal in women's single at the 2012 Summer Olympics in London. She had a streak from 2003 to 2015 to hold at least one title each year, one singles title a year from 2003 until 2015. Maria Sharapova Booed by Crowd at Australia Open 2019; Tennis Ace Annoyed With the Question Asked by a Scribe at Conference (Watch Video)
The Russian tennis star has excellent fitness along with the best figure, as she has featured in various modelling assignments like one being Sports Illustrated Swimsuit Issue. As Maria Sharapova is a tennis player, she ensures that she works perfectly on her lower body muscles like glutes, quadriceps, hamstrings. Sharapova also trains for flexibility, shoulder stability along with muscular strength. Let us take a glimpse from her workout routine.
Sharapova doing reverse lunges and ladder drill
Sharapova shoulder stability and conditioning workout
Sharapova doing body balancing workout with mini bands
View this post on Instagram
Sharapova unique core training!
Sharapova doing one leg stiffed leg deadlift
Sharapova is recently struggling from her fitness as she withdrew from the Miami Open 2019 following her shoulder injury. Sharapova has been struggling back to come back in the form after finishing her 15 months doping ban which ended in 2017.