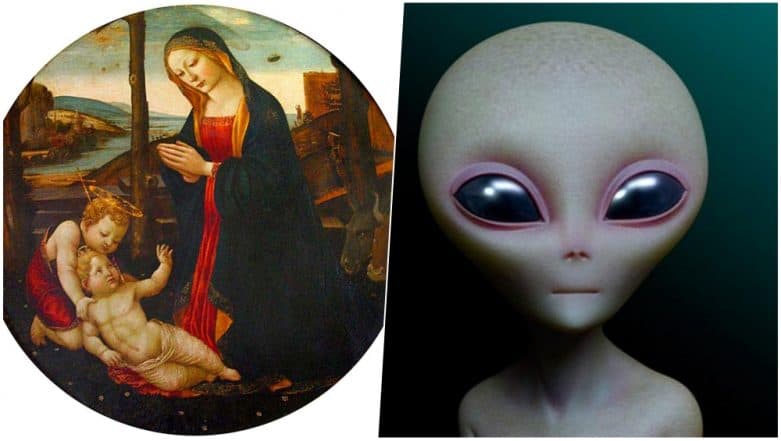 The mystery about the existence of aliens in this world keeps getting deeper day by day. While scientists and researchers observe every minute details that seem amiss, with much precision, there are several other conspiracy theorists who are also at work. Not always going in tandem with the scientific findings, conspiracy theorists find different parallels to talk about the extra-terrestrials. One such theory proposed by a group says that aliens were in existence since the 15th century and a painting from that ear is said to be a proof of the same. A painting known as Madonna and Child with the Infant, Saint John the Baptist, shows alien ships in the background! Purple Aliens in The Universe? Study Suggests New Dimension into Search for Extraterrestrials. 
This painting hangs on the walls of the Palazzo Vecchio in Florence in the Hall of Hercules. The keen enthusiasts in UFO have been discussing the painting as it sees some mysterious objects flying in the sky behind. The object is disc-like and is believed to be an evidence of the aliens. In the top right corner also another object with tentacles is seen. The alien hunters, as they call themselves have concluded that aliens have been visiting us from quiet some time. Aliens To Contact in the Next 15 Years? Watch the Video of 7 Recent UFO Sightings. 
As quoted on Ancient Aliens website it says, "The UFO is of the familiar dish or saucer shape with rays radiating from it, implying it is emitting light." They state that the creature with tentacles could be aliens. But every conspiracy theory has a counter-argument to it. According to the art historians, the flying saucer shape is actually an angel making an appearance from a cloud. While ancient historians dismiss any such claims, conspiracy theories like these keep coming up.