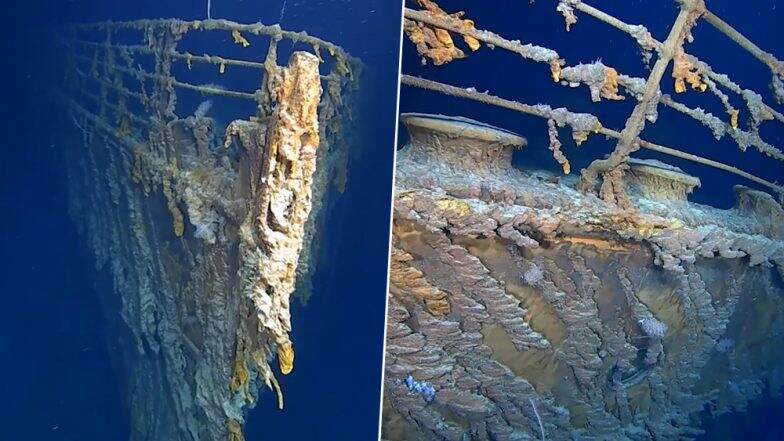 The Titanic may have sunk more than a century ago but the utterance of the name is enough to take people back to its fate. The British sea liner sank in the Atlantic Ocean in 1912 after it crashed into an iceberg. Parts of the ship still remain at the seabed down the Atlantic. And a new set of images from a dive to the Titanic have revealed its deteriorating condition in the last 15 years. A group of deep-sea divers and sea explorers dived down to the sunken ship and released some new pictures and videos of the sunken ship's current state. Titanic II Will Sail in 2022! Passengers Would Relive the Unsinkable Ship on the Exact Same Route.
A Titanic historian Parks Stephenson who was on this exploration said that some of the most liked features of the ship have been lost to the see. "The captain's bathtub is a favourite image among the Titanic enthusiasts, and that's now gone. That whole deck … on that side is collapsing taking with it the staterooms," he was quoted to BBC. He added, "Titanic is returning to nature." The ship that once tagged as unsinkable is now broken into two pieces that rest on the ocean floor. The footage from the underwater exploration is going viral on social media. Titanic Tragedy: Twitterati Remembers the Tragic Shipwreck on its 106th Anniversary.
Watch Video of Titanic's Wreckage 14 Years Later:
"Titanic is returning to nature"

Parts of the wreck are now deteriorating rapidly

[Tap to expand] https://t.co/O4TUkYIZP4 pic.twitter.com/jL2MC2cijD

— BBC News (World) (@BBCWorld) August 21, 2019
The strong ocean currents, saltwater and metal-eating bacteria have caused their damage on the ship. There were about five sub dives to film the footage of the wreck. This will all be utilised in a forthcoming documentary. Meanwhile, scientists are also studying the creatures that live on this wreck. Robert Blyth from the National Maritime Museum said, "The wreck itself is the only witness we've now got of the Titanic disaster."
In the year 2012, the wreck of the ship was declared under the cover of the 2001 UNESCO Convention on the Protection of Underwater Cultural Heritage. The ship hit an iceberg on April 14, 1912, on its maiden voyage from Southampton to New York. About 2,200 passengers were aboard the ship and more than 1,500 died. This is one of history's deadliest marine disasters.