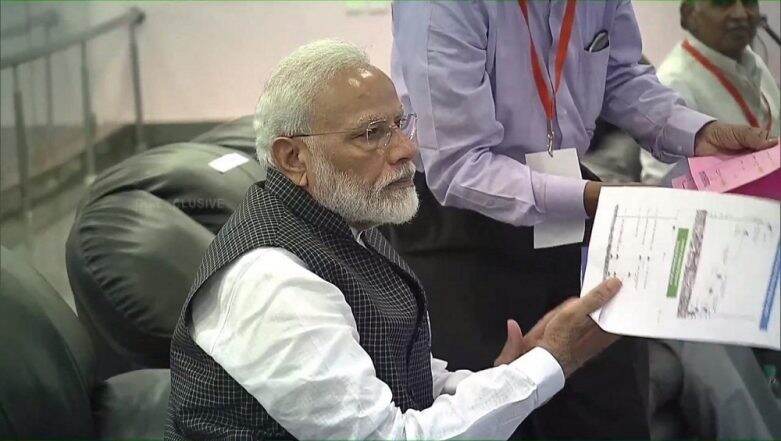 Bengluru, September 7: After communication with Chandrayaan 2 was lost at 2.1 km from Lunar surface on Saturday, Prime Minister Narendra Modi boosted the morale of Indian Space Research Organisation (ISRO) scientists. During his media interaction, PM Modi said that ups and downs are part of life and reaching so close to the moon is not a small achievement. The Prime Minister assured that he is always with the scientists. He also patted back of ISRO chairman K Sivan. Speaking to the scientists, PM Modi stated that the nation is proud of them. Chandrayaan 2 Enters Lunar Orbit Successfully, ISRO Completes Tricky Operation Ahead of Moon Landing.
He also said that the ISRO will update about the Vikram Lander once it restores communication with the spacecraft.  Data from Chandrayaan 2's Vikram lander stopped coming in at 1.55 am just 25 seconds before its scheduled landing. Prime Minister Narendra Modi was at the ISRO centre in Bengaluru to witness the historic moment. In His tweet PM said that we should remain hopeful and continue working hard in our space program. Chandrayaan 2 Moon Landing: We Are Landing Where No One Has Gone Before, Says ISRO Chief K Sivan.
PM Modi's Tweet:
India is proud of our scientists! They've given their best and have always made India proud. These are moments to be courageous, and courageous we will be!

Chairman @isro gave updates on Chandrayaan-2. We remain hopeful and will continue working hard on our space programme.

— Narendra Modi (@narendramodi) September 6, 2019
Video of PM Modi's Interaction With Media:
#TirangaOnMoon – Nation is proud of you: PM @narendramodi to @isro scientists. pic.twitter.com/KYLsWlFoiM

— News18 (@CNNnews18) September 6, 2019
Around 70 students from across the country were also present at the ISRO centre along with the PM. Chandrayaan 2 was launched at 2:43 pm IST on July 22 from the Satish Dhawan Space Centre in Sriharikota by GSLV Mk-III.
The spacecraft entered lunar orbit on August 20. The second lunar orbit manoeuvre was carried out on August 21. The space agency carried out a total of five orbital manoeuvres. The third, fourth and fifth manoeuvre was conducted on August 28, August 30 and September 1 respectively. The two de-orbital manoeuvres were conducted on September 3 and 4. The total cost of Chandrayaan 2 was Rs 978-crore.