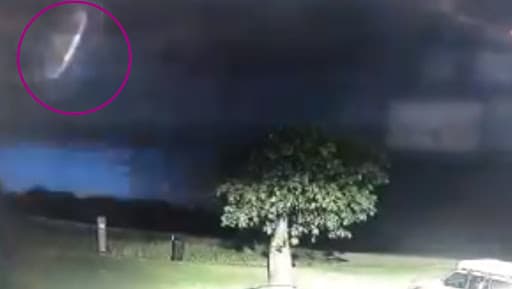 While scientists and researchers continue to search any evidence of life outside this planet, a new sighting of a UFO was reported in Australia. It became more of a concern when the police themselves tweeted about it saying 'we are not alone.' It was a CCTV footage captured amidst a thunderstorm in Australia and showed clearly a UFO structure appearing in the sky and going away! It sparked a frenzy among some people on the internet when Broome Police tweeted a video. Discussions about alien existence soon began. Mysterious Videos of Blue Light Flashing in New York City Skyline Sparks Aliens and UFO Theories! NYPD Reveals the Real Reason.
There are several UFO sighting videos that keep coming on the internet every once in a while. Mysterious objects seen in the sky or uncanny lights seen in the night skies have always sparked alien existence discussions. Countless conspiracy theories are also given about extra-terrestrials. Broome Police shared 15-second video footage from a CCTV and it showed a spooky appearance of an unidentified object appearing in the clouds. UFO Shaped Cloud Appears Over Moscow, Causes Frenzy Among People, Watch Video!
Check Video Footage of UFO Shared by Broome Police in Australia
After reviewing CCTV at town beach of last nights storm, it appears we were not alone 🔭🛸🛸🛸🛸 pic.twitter.com/Efh6SuPX7S

— Broome Police (@BroomePol) February 17, 2019
The video has been viewed over 10,000 times. Soon people started analysing the footage to understand if it was really a UFO or some reflection. It seems it was the later. People replied to Broome Police stating the circular object was a reflection of lights from a nearby vehicle on the security camera.
Here's The Explanation of the Reflection 
Nice optical effect. Of course it's just a typical lens flare caused by that vehicle's reversing light. pic.twitter.com/mzydDmnMo0

— ufoofinterest.org (@ufoofinterest) February 18, 2019
So there is no UFO after all. But it sure looks like a UFO for slight seconds. One of the user's also asked the police to go investigate real crimes instead of sharing such footage to cause fear among the people. UFO or no UFO, the mystery around the existence of aliens continues.