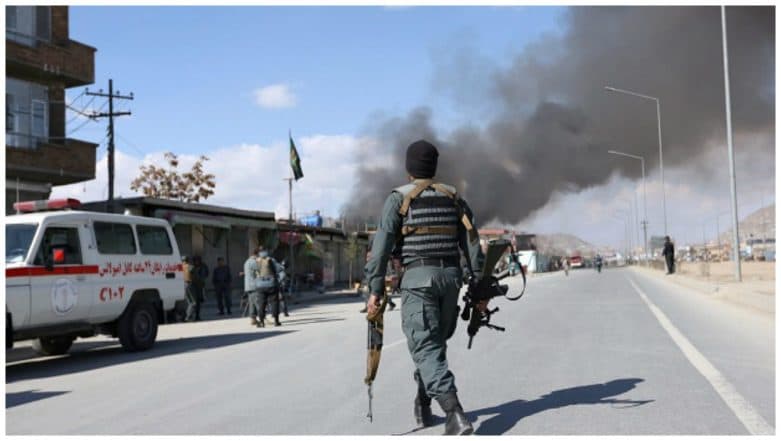 Kabul, October 2: At least seven people were killed and nearly 25 people were injured in a suicide attack in Afghanistan's Nangarhar on Tuesday. This is the latest incident of violence to strike the country where the attack was targetted at an Afghan election campaign rally. Provincial governor spokesman Ataullah Khogyani was quoted in media reports that nearly 25 people were wounded when the militant blew himself up at the rally of parliamentary candidate Abdul Nasir Mohmmand in the eastern province of Nangarhar.
The election in the country comes amid a particularly vicious campaign by the Taliban and the Islamic State group, which have been staging near-daily attacks across the country, reports informed. The voting for the lower house of parliament is scheduled for October 20. It still remains unclear if voting will take place in areas held by the Taliban. India Makes Veiled Attack on Pakistan Over Afghanistan Terror at United Nations.
A suicide bomber detonated his explosives at an election campaign rally of a parliamentary candidate in Nangarhar province on Tuesday afternoon, 7 killed: TOLOnews #Afghanistan https://t.co/xXTbkCjCgk

— ANI (@ANI) October 2, 2018
Reports inform that contenders in Afghanistan's parliamentary elections kicked off their campaigns in the last week of September ahead of the balloting this month. Reports stated that nearly five candidates were killed in violence in the run-up to the campaigning period. Ghazni Attack: 300 People, Including 100 Security Forces, 30 Civilians Killed in Afghanistan.
In the last month, United Nations Secretary-General Antonio Guterres had strongly condemned the series of bombings in Afghanistan's Nangarhar province that targeted three schools and a group of demonstrators.
Guterres said the bombings were deliberately targeting civilians and civilian infrastructure, in particular, schools. "Such attacks are unjustifiable and in violation of the international humanitarian law. Every effort should be made to bring to justice those responsible for this attack against civilians," Guterres said.