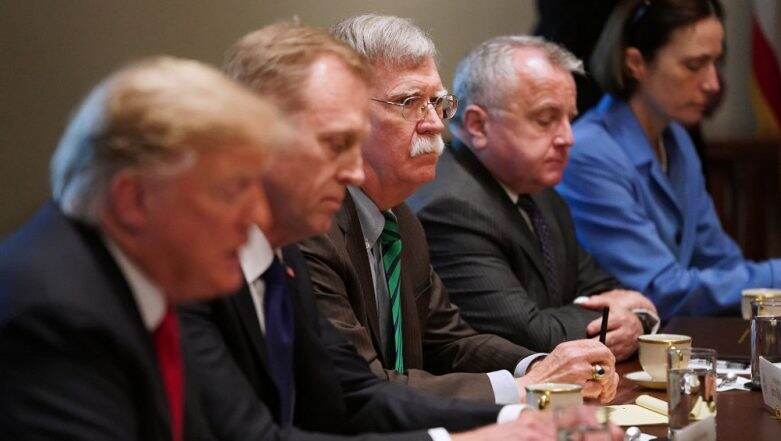 Washington, May 15: In the military establishment of the United States, all eyes are set on John Bolton, the hawkish Bush-era official, who is now serving as the national security advisor to Donald Trump. The 70-year-old, who was pivotal to the 2003 war in Iraq, is reported to have put forth a plan to deploy 120,000 troops in the Middle East amid the escalating tensions with Iran.
Iran's Foreign Minister Javad Zarif has included Bolton among the "four Bs" who want to spark a war between the Shia Islamic Republic and the US. The other three Bs being - Saudi Crown Prince Mohammed bin Salman, United Arab Emirates (UAE) Crown Prince Mohamed bin Zayed and  Israeli Prime Minister Benjamin Netanyahu.
According to Zarif, two of their Sunni neighbours in the Gulf want Iran decimated to shift the balance of power completely in their favour, whereas, Israel wants to muzzle the final force of solidarity with the Palestine.
If not for Bolton, the senior Hassan Rouhani aide said, a new deal would had been cut out between Tehran and Washington.
Trump is not in favour of indulging in hectic military campaigns in the Middle East, said Zarif, citing the US president's stand on the conflicts in Iraq and Afghanistan.
His renewed push for a face-off with Iran, which began with pull-out of US from the nuclear deal and the imposition of crippling sanctions on Tehran, were abetted by Bolton.
Experts are of the view that Zarif's criticism of Bolton is justified, but considering Trump as a votary of peace is "far-fetched". Iranian officials sharing their Foreign Minister's opinion would had been jolted when Trump cleared the air on deployment 120,000 troops in the Gulf.
Trump, on being asked on Monday whether his administration is considering such a high deployment in the Middle East -- which is larger than the number of soldiers sent in the military campaign against Saddam Hussain -- said "it's a fake news". But his follow-up comments hinted towards a regime change plan being covertly hatched by his coterie.
"Now, would I do that? Absolutely. But we have not planned for that. Hopefully we're not going to have to plan for that. And if we did that, we'd send a hell of a lot more troops," Trump said, claiming that 120,000 number floated by New York Times is far too low than the amount of military might he could thrust to coerce the Iranian regime into submission.