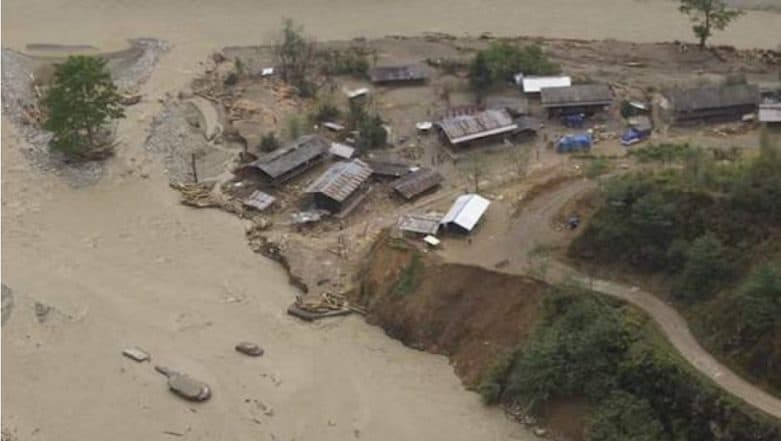 Mumbai, April 24: At least 54 jade miners are feared dead after a massive mudslide engulfed their living quarters in Myanmar's Kachin state. The state-run Myanmar News Agency reported that the mudslide was caused after a lake collapsed near the mining town of Hpakant in the wee hours of Tuesday.
Rescue workers fear all miners who have been reported missing will be found dead as the massive mudslide has completely covered the area which housed the mine workers. As the mudslide happened during the night, all the miners were in their living quarters fast asleep. An estimated 40 vehicles were also drowned in the mudslide.
"Finding bodies is proving difficult. About 60 volunteers from our philanthropic association are participating in the search for bodies," said U Khin Maung, chairman of a local philanthropic organization, according to Burmese state media. "They won't survive," Tin Soe, a local lawmaker, told the BBC. "It's not possible because they are buried under mud."
Myanmar's jade mining industry is huge but highly unregulated. Unsafe conditions and practices cause multiple deaths in the industry every year. Myanmar's ministry of information identified the companies involved in the accident as Shwe Nagar Koe Kaung and Myanmar Thura Gems.
Majority of the mines are located in the restive provinces of Kachin and Rakhine, near the country's border with India and China. These areas are still highly under-developed making the monitoring of fair practices by mining companies a difficult task. The CNN reports that some of the mines are run by armed insurgent groups fighting the Burmese central government and local drug lords, according to international observers, though many exist in areas controlled by Burmese authorities.
Jade mines account for a bulk of Myanmar's GDP and it was reportedly worth US $31 billion in 2014.