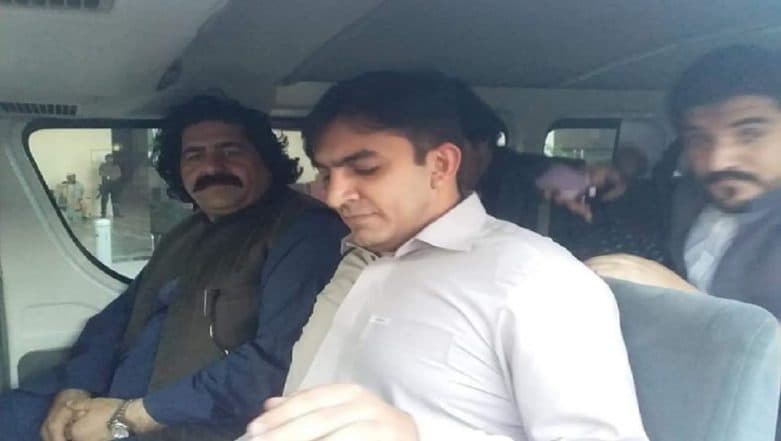 Islamabad, December 1: Pashtun lawmakers Ali Wazar and Mohsin Dawar, known for their critical views of the Pakistan Army, have been barred from leaving the country. Both the leaders represent the Afghanistan-bordering North Waziristan region in the National Parliament. The duo have been put on the Exit Control List or ECL, after being deboarded from their Dubai-bound flight on Friday.
The Federal Investigation Agency (FIA) has launched an FIR against Dawar and Wazir -- the latter is co-founder of the Pashtun Tahafuz Movement (PTM). They are charged of making provocative speeches against the Pakistani Army while addressing a gathering in Swab, the city located 100-km east of Peshawar. Pakistani Military Uses 'Foreign Influence Bogey' To Delegitimize Pashtun Long March Movement.
Dawar and Wazir were released shortly after being detained. The FIA has reportedly recorded their statements and initiated inquiry in the case filed against them.
Both the Pashtun leaders were elected with an overwhelming mandate in the July 2018 general elections -- which saw Imran Khan being elected as the Prime Minister.
Activists critical of the Pakistani establishment, mostly forming the state's foreign diaspora, have slammed the Imran Khan government for allowing sedition charges being levelled against the lawmakers.
"Is it stupidity or arrogance that prompts GHQ/ISI/Govt into harassing, threatening & intimidating PTM leaders & workers? Do we really not remember our own history or are we actually this blood-thirsty that we are keen to see it repeat itself? Oppression never wins in the end," said Geneva-based human rights' lawyer Imaan Mazari.
Under what law are two Parliamentarians being treated in this way? And on what grounds? Because they're Pashtun?

Yeh jo ghunda gardi hai, iss ke peechay wardi hai! https://t.co/cj5IBYY6N5

— ایمان زینب (@ImaanZHazir) November 30, 2018
Analysts also claim that the action taken against Dawar and Wazir is aimed at breaking the PTM -- whose leaders have so far refrained from accepting the terms of negotiation laid down by the Pakistan Army.
The PTM has been demanding penal action against officials involved in the "massacre" of tribal Pashtuns between 2009 to 2014 under various military campaigns undertaken by the Pakistani military.