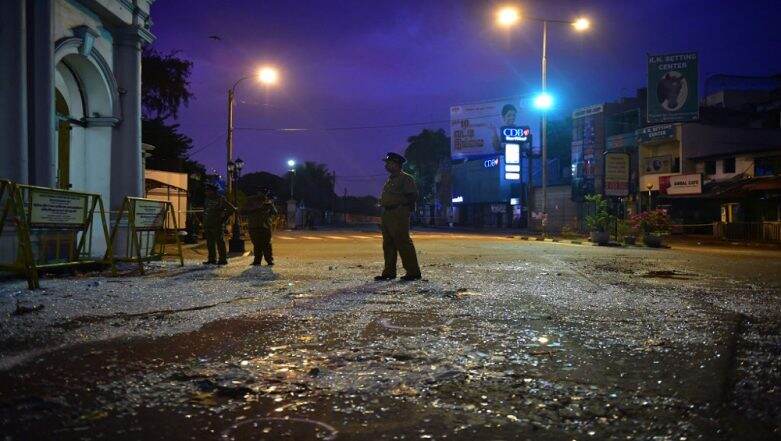 Colombo, April 28: The father and two brothers of Sri Lanka terror attack mastermind have been killed in the gun battle which erupted between suspected terrorists and the Sri Lankan troops in Ampara. The deceased have been identified as Zainee Hashim and Rilwan Hashim -- the brothers of alleged terror mastermind Zahran Hashim. Their father Mohamed Hashim has also been killed in Friday's army raid, officials confirmed.
The military raid against the Hashim family was carried out after a video circulated online which showed the three deceased members calling for an all-out war in Sri Lanka against the "disbelievers". Sri Lanka: ISIS Claims 3 Militants Who Blew Up Themselves Killing 15 Were Affiliated to Daesh
The mastermind's brother-in-law Niyaz Sharif, who is considered to be the ringleader of the coordinated blasts, has also been killed in the military raid.
The alleged terror suspects are among the 15 people killed in Ampara after two among the accused detonated themselves. The suicide blast also led to the death of 6 minors staying at the hideout of the suspects.
A day after the suicide blast was reported, the Islamic State or ISIS issued a statement claiming that the three suspected militants who detonated themselves were affiliated to the terror group.
Authorities have, however, expressed doubt over Daesh's claims, arguing that the organisation is making a desperate effort to gain publicity from the terror strikes in the island nation.
Preliminary probe has so far pointed towards the role of the National Thowheed Jamath, a local radical outfit, of coordinating the terror strikes. The role of an "international hand" could not be ruled out, Prime Minister Ranil Wickremesinghe said.