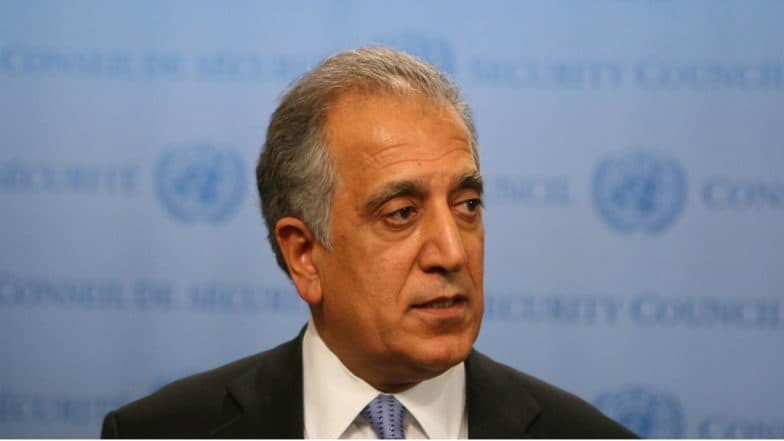 Mumbai, April 23: US Special Envoy to Afghanistan Zalmay Khalilzad, the Trump Administration's point man negotiating with the Taliban will visit India as part of his regional tour starting April 21.
Khalilzad's new multi-nation trip aims to update regional players on the Afghan peace process for which he will visit Afghanistan, India, Pakistan, Qatar, Russia and the UK from April 21 to May 11, the US Department of State said in a statement on Monday.
"In Kabul, Ambassador Khalilzad will consult with the Afghan government and other Afghans to encourage all parties to work towards intra-Afghan dialogue and negotiations to determine a final peace settlement," the statement said.
The statement added that "in London, Moscow, Islamabad, and New Delhi, he will work to build international support for the Afghan peace process to help ensure that any peace settlement reached will be sustainable".
"In Doha, he (Khalilzad) will continue to press forward on negotiations with the Taliban to reach a consensus on core national security issues, and urge their participation in an inclusive intra-Afghan dialogue," the statement concluded.
Khalilzad's meeting with top Indian diplomats or the country's foreign minister Sushma Swaraj is yet to be announced.
Khalilzad last visited New Delhi in January but had given the country a miss in the following regional visits. But India's Foreign Secretary Vijay Gokhale had met the US envoy in March during his visit to Washington and had appraised him of India's view on the Afghan peace process. Gokhale had reportedly conveyed India's backing of an "Afghan-owned, Afghan-led and Afghan-controlled" peace process. Gokhale had also conveyed that New Delhi would like a continuation of the current political structure which has been arrived at after 18 years.
Khalilzad has achieved considerable progress in negotiating with the Taliban however, the insurgent group is extremely reticent of negotiating with members of the Afghan government. The latest round of talks in Qatar were cancelled after the Taliban representatives objected to the size of the Afghan government's delegation.