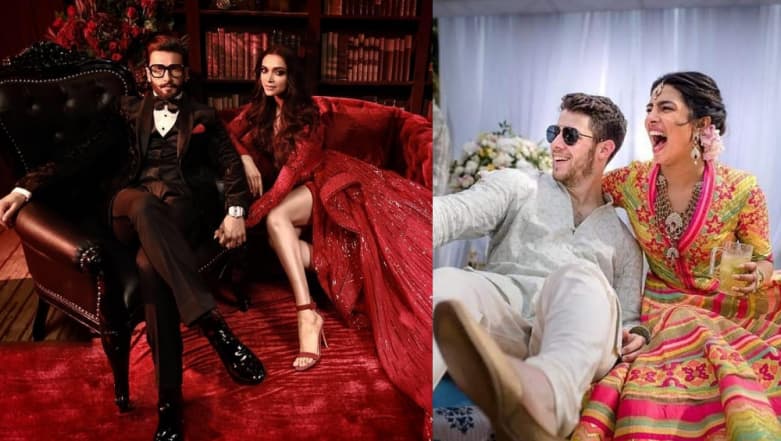 Saturday was indeed a big day for B-town enthusiasts. For all those who are active on the social media platforms, must have been already quite aware with all the goss that happened in tinsel town yesterday. Firstly, it was Priyanka Chopra and Nick Jonas' wedding day and the couple released beautiful pictures from their mehendi ceremony. Then, it was Deepika Padukone and Ranveer Singh's third reception and fifth bunch of pictures from the wedding events. Deepika Padukone – Ranveer Singh Reception: From Varun - Natasha to Kareena - Saif, Let's Have a Look at Couples Who Attended This Gala Evening.
Everyone was still digesting the fact that PeeCee is finally a married woman and how pretty the pictures were from her wedding festivities in Umaid Bhavan. Bam! Here came the new stunning pictures of DeepVeer's 'Bollywood' reception shared by the actress. While most of them loved them in the glamorous western attires, others were mighty miffed with them for 'stealing the thunder' or 'overshadowing' Priyanka's big day! Especially, after they having their own share of 'Twitter trends' during their wedding and mehendi ceremonies! Check out how people are debating over this.
First Check out the pics in the question. DeepVeer!
View this post on Instagram
And NickYanka
Plotting and all!
Priyanka's wedding being overshadowed by Ranveer & Deepika's, is literally the plot of Bajirao Mastani.

— Manish Malhotra (@malhotramanish1) December 2, 2018
View-Counterview
It was other way around, deepika's pretty ass getting overshadowed by priyanka's brilliant KashiBai. But yeah...OK

— Vaishnavi (@Vaishnavikc) December 2, 2018
Someone's taken it to heart
deepika padukone fans are sick to the core. everyone supported y'all and all you can do during priyanka's big day is mock that it has no hype/ it was overshadowed by deepveer's reception? i know you can't be supportive but like just...shut up? #Nickyankakishaadi

— vib (@66Rhythm) December 2, 2018
Paid Trend?
Are you sure about that Deepika Padukone & Ranveer Singh's PAID BOT? How much did they pay you? Priyanka & Nick haven't even released their wedding pictures yet. And, you are comparing their Mehendi pictures to a star studded reception aka red carpet award event? EMBARRASSING😆🤣 pic.twitter.com/VrujaGXzin

— Nickyanka Forever 💕💗💖 (@PCsFanKartik) December 2, 2018
Burn!
I think sometime next year Priyanka Chopra will post her baby shower pictures but Ranveer & Deepika will still not be done posting their reception pictures.#Shared

— Bala Valluvan (@balavalluvan) December 2, 2018
When you are still not over Mastani-Kashibai rivalry
When Deepika and Ranveer don't stop posting their reception pics even on Priyanka's wedding day.

Aapne toh hamse hamara attention. Hi Cheen Liya pic.twitter.com/wovO5DaUNq

— UJ🔆 (@oyeuzzuoye) December 2, 2018
It's funny how the fans dissect the moves of the celebs according to their own understanding. The fact remains that both the Bollywood beauties looked equally stunning and are perfect in their own place. Don't you think so? As most of the post-wedding festivities are done for Deepika and Ranveer, fans now wait for 'NickYanka's wedding pics. The duo got hitched in christian wedding ceremony and will carry on with Hindu wedding rituals today.